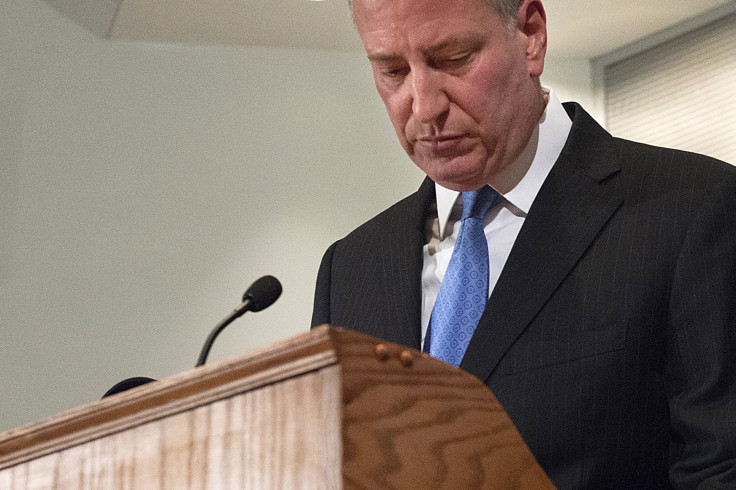 Two NYPD officers were tragically killed on Saturday when gunman Ismaaiyl Brinsley, 28, fired at them in Bedford-Stuyvesant of Brooklyn. Brinsley's motive for the killing was revenge for the deaths of Eric Garner and Michael Brown. Brinsley fatally shot himself before he was apprehended,
According to reports, officers Wenjian Liu and Rafael Ramos were sitting in their patrol car in Bedford-Stuyvesant, pulling overtime for an anti-terrorism drill. Shooter Brinsley stood next to the squad car and shot the officers at point blank. Next, Brinsley made a run to a nearby subway platform to evade back up. Ultimately, the NYPD had cornered Brinsley, who chose to turn the gun on himself than face prosecution.
Later, it was revealed that Ismaaiyl Brinsley shared a highly disturbing post via Instagram prior to killing the police officers. "I'm putting Wings on Pigs Today," Brinsley wrote in a post. "They take 1 of ours... Let's take 2 of theirs... This may be my final post."
The tragic incident was met with strong emotions from the people of New York. Not only was it a senseless act, but it demonstrated the level of turmoil that faces the city, and even the nation.
Tensions between New Yorkers and the New York Police Department have been running exceptionally high since the death of Eric Garner. Unfortunately, New York City Mayor Bill de Blasio has also been cited as a detriment due to his administration's lack of support for the NYPD. The NYPD's negative impression on de Blasio went as far back as July when the mayor issued a statement following a gunfight that wounded two federal marshals and a city police.
"For much of the previous 12 years, there was a growing tension and a growing disconnect between police and community all over our city," de Blasio said in July. "This administration came into office with a commitment to ending the broken policy of stop-and-frisk, the overuse of stop-and-frisk, the unconstitutional use of stop-and-frisk."
East Shore/Brooklyn Assemblywoman Nicole Malliotakis also held de Blasio responsible for the shocking police deaths on Saturday.
"I think our mayor needs to show some type of leadership here," answered Malliotakis when asked whether the Eric Garner decision had a connection with the cop killing. "It's a matter of bringing the city together. Some of his statements to date have been polarizing, so I do believe that there is an anti-police sentiment out there and it is growing."
"It is well past the time for our mayor and citywide leaders to call for a return to order in our streets, and take a hard stance that lawlessness and aggression towards police officers will not be tolerated," Malliotakis also said on Twitter. "Extreme anti-police sentiment and public unruliness have been permitted to fester for far too long."
Finally, police officers of the NYPD turned their backs against the mayor when he entered a press conference regarding the deaths. Many officers share strong belief that Mayor Bill de Blasio has "blood on his hands" and "should be charged with murder" for the death of Officer Liu and Ramos.
Now, a petition on MoveOn is campaigning for the resignation of Mayor de Blasio. Signatures for the petition have well exceeded 30,000 before midnight on Saturday.
"Today, Saturday December 20th 2014, 5 days before Christmas, 2 NYPD officers were shot and killed in their cruiser for no apparent reason. With the recent news surrounding the NYPD and other law enforcement agencies around the country, our mayor blasted his own police department by throwing them under the bus. His words and actions on the subject matter of late have to be held accountable. He is unfit to lead this city. He is unfit to have a relationship with his police department for his remaining tenure and he should be taken out of office IMMEDIATELY, with proper protocol to be followed to name a replacement before a special election."
Obviously, an eye for an eye will leave the whole world blind and it is important to find a solution to end the senseless violence in our cities. Now it's your turn: how should Mayor Bill de Blasio and the city handle the recent series of incidents that have caused the highest tension in recently history between NYPD and the people of New York? Let us know in the comment section below.
Visit the official MoveOn petition for the resignation of New York City Mayor Bill de Blasio to learn more.
© 2023 Latin Times. All rights reserved. Do not reproduce without permission.