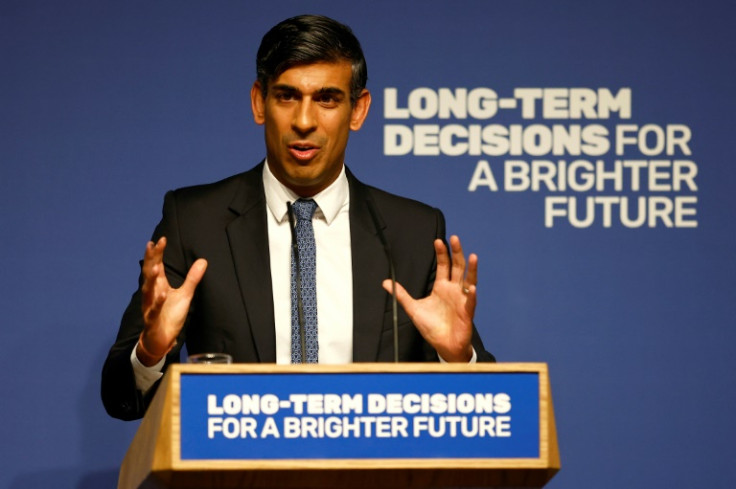 UK inflation fell more than expected in October, data showed Wednesday, easing a cost-of-living crisis and relieving pressure on Prime Minister Rishi Sunak.
The Consumer Prices Index hit a two-year low at 4.6 percent, the Office of National Statistics said, dipping under a five-percent target set by Sunak, who faces a crisis in his Conservative party ahead of next year's general election.
CPI inflation slowed more than forecast by the Bank of England and analysts after reaching 6.7 percent in September.
"Official figures... confirm we have halved inflation meeting the first of the five priorities I set out at the beginning of this year," Sunak said.
"But while it is welcome news that prices are no longer rising as quickly, we know many people are continuing to struggle, which is why we must stay the course to continue to get inflation all the way back down to two percent," he said, referring to the Bank of England's target.
UK annual inflation struck a 41-year peak at 11.1 percent in October 2022, stoked by spiking energy prices after the invasion of Ukraine by major oil and gas producer Russia.
Grant Fitzner, chief economist at the ONS, said "inflation fell substantially" last month on easing energy costs following last year's steep rise.
"Food prices were little changed on the month, after rising this time last year, while hotel prices fell, both helping to push inflation to its lowest rate for two years," he added.
Analysts said a sharp fall in the annual inflation rate could see finance minster Jeremy Hunt cut taxes in his latest budget announcement due next week.
They add that the drop in UK inflation since the start of the year from the highest level in decades is thanks largely to interest-rate hikes from the independent Bank of England (BoE) and cooler energy prices worldwide.
Interest-rate hikes by other major central banks, including the US Federal Reserve and European Central Bank (ECB), have helped bring down elevated inflation in the world's biggest economy and the eurozone.
US consumer inflation cooled more than expected last month, government data showed Tuesday.
The CPI inflation gauge increased 3.2 percent in the 12 months to October, down from 3.7 percent a month earlier.
Global inflation remains high, however, with the Fed, BoE and ECB all having an annual inflation target rate of two percent.
Economists have stressed that stubbornly-high inflation could prompt central banks to keep interest rates at high levels for many more months -- and may even be forced to keep on hiking borrowing costs.
This has fuelled worries that major economies could soon enter recession.
Official UK data Tuesday showed wages growth above CPI inflation, which is seen as a double-edged sword.
"People are finally feeling the benefit in their pay packets and with inflation expected to have cooled significantly last month it is an indication that the worst of the cost-of-living squeeze might be over," said Danni Hewson, head of financial analysis at investment platform AJ Bell.
However, "if households are feeling more confident and have a bit more room in the budget they are likely to spend that cash, which could prove inflationary".
At the same time, many Britons are still struggling to pay bills.
Rate hikes have worsened the situation because retail banks follow suit by hiking the cost of repayments on mortgages and other loans.
Britain's CPI reading does not reflect a surge in the cost of housing rents.
© 2023 Latin Times. All rights reserved. Do not reproduce without permission.