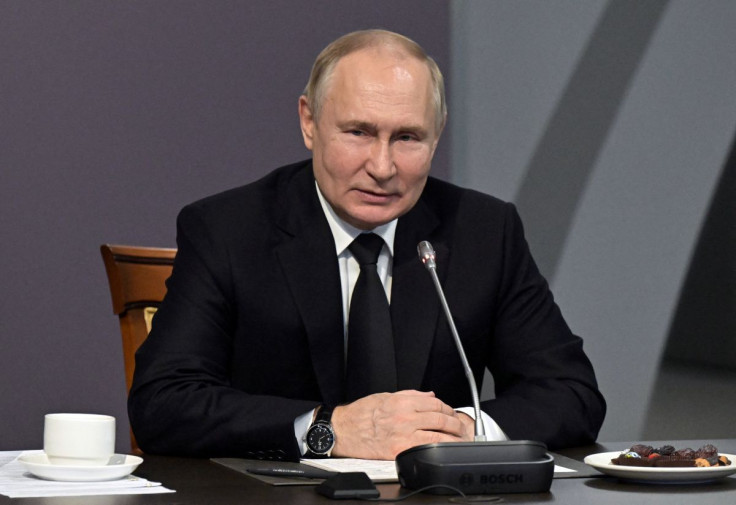 Volodymyr Zelenskiy, the president of Ukraine, claimed that Kyiv was unrelated to the alleged overnight incident.
"We don't attack Putin, or Moscow, we fight on our territory," Zelenskiy told a press conference during a visit to Finland, of the war against Russian occupiers.
As Kyiv gets ready to launch a long-awaited counteroffensive, a senior aide to Zelenskiy said the charge was evidence that the Kremlin was plotting a significant new attack on Ukraine.
Ukraine raised alarms for airstrikes over the country's capital Kyiv and other areas shortly after the Kremlin statement.
Two unmanned aerial vehicles, according to Russia, were headed straight for the Kremlin.
"As a result of timely actions taken by the military and special services with the use of radar warfare systems, the devices were put out of action," a Kremlin statement said.
"We regard these actions as a planned terrorist act and an attempt on the president's life, carried out on the eve of Victory Day, the May 9 Parade, at which the presence of foreign guests is also planned."
Drone parts were spread over the Kremlin grounds, but no one or anything was hurt, it claimed.
Putin was protected. According to the RIA news agency, he wasn't in the Kremlin at the time and was working on Wednesday at his home in Novo Ogaryovo, outside Moscow.
The Kremlin further stated that "the Russian side reserves the right to take retaliatory measures where and when it sees fit."
The incident "leaves us no choice but to physically eliminate Zelenskiy and his clique," according to the former Russian president and current deputy chairman of Russia's Security Council Dmitry Medvedev, Reuters reported.
Two of the many videos posted on Russian social media platforms depict two objects flying in the same direction toward the Senate dome, one of the highest points in the Kremlin complex.
The second appeared to leave burning wreckage on the dome, while the first appeared to be destroyed with little more than a puff of smoke.
However, some Western analysts suggested it was possible Russia may have staged the incident to place the blame on Kyiv and justify some sort of crushing response.
Reuters checks on time and location indicated that the videos could be authentic.
Ukrainian presidential adviser Mykhailo Podolyak said the drone accusation, along with an announcement that Russia had caught suspected saboteurs in Ukraine's Russian-occupied Crimea region, "clearly indicates the preparation of a large-scale terrorist provocation by Russia in the coming days".
The White House in Washington claimed it was aware of rumors that Russia had accused Ukraine of using drones to assault the Kremlin in an effort to assassinate Putin, but it was unable to confirm the claims.
According to Russia, the "special military operation" was started to combat a threat posed by Kyiv's connections with the West.
According to Ukraine and its supporters, it is an unprovoked Russian conquest war that was stopped by Ukrainian advances in the second part of 2022 and a failed attack on Kyiv's capital early last year.
The ground forces of Ukraine have mostly remained on the defense over the previous five months while Russia conducted a massive, but fruitless winter offensive, gaining little new land.
Russian shelling that struck a hypermarket, a train station, and residential buildings in the southern Ukrainian region of Kherson on Wednesday resulted in 18 civilian deaths and 46 injuries, according to Ukrainian officials.
At least 12 of those killed were in Kherson city, which has frequently been shelled by Russian forces from parts of Kherson province. Three engineers who were working to repair damage to the electrical infrastructure caused by earlier Russian bombardments were among those killed.
"When the enemy can achieve nothing on the battlefield, it strikes at peaceful cities," Ukrainian military spokesperson Serhii Cherevatyi said.
In an overnight salvo, Ukraine claimed to have shot down 21 of 26 drones built in Iran.
Since last week, both Ukraine and Russia have launched long-range attacks in what appears to be preparation for a Ukrainian counteroffensive that Zelenskiy said would start soon and be supported by deliveries of high-tech Western weapons.
Moscow claims to have hit military targets, but there is no proof to back this up. Without denying any involvement in the events in Russia or Crimea, Kyiv claims that the destruction of infrastructure is a prelude to its upcoming ground invasion.
Zelenskiy made his fourth known trip abroad since Russia's total invasion on Wednesday when he visited Finland. His visit was also attended by the leaders of Denmark, Iceland, Norway, and Sweden.
Zelenskiy declared that his objectives were to strengthen Ukraine's armed forces and to secure a future membership in NATO, a goal that was backed by the five Nordic countries in a joint statement.
Later, according to Blinken, the U.S. administration had approved the purchase of more weapons and equipment for Ukraine totaling $300 million.
© 2023 Latin Times. All rights reserved. Do not reproduce without permission.