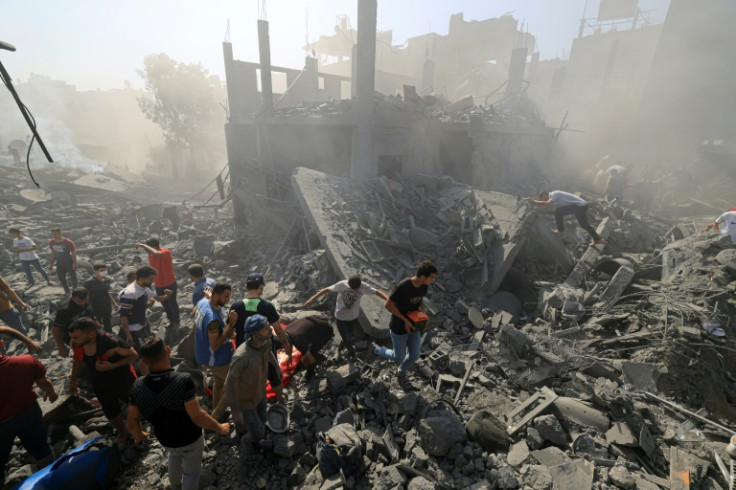 The United States said Wednesday that its first citizens were able to leave the war-hit Gaza Strip after weeks of diplomacy, as Secretary of State Antony Blinken prepared to return to Israel and Jordan.
Palestinian-American groups have piled pressure on President Joe Biden's administration over families trapped in Gaza with limited food and water as Israel retaliates against Hamas, with several lawsuits alleging double-standards after the evacuation of Israeli-Americans.
Biden hailed progress after the opening to people of Rafah, the sole crossing from Gaza not run by Israel.
An Egyptian official said that 335 foreigners and 76 wounded Palestinians were allowed to cross on Wednesday, without a breakdown by nationality.
"Today, thanks to American leadership, we secured safe passage for wounded Palestinians and for foreign nationals to exit Gaza," President Joe Biden said on X, formerly Twitter.
Expecting more departures over the coming days, Biden said, "We won't let up working to get Americans out of Gaza."
State Department spokesman Matthew Miller confirmed that "an initial group" of US citizens were among foreigners who crossed the Rafah crossing from Gaza to Egypt, but declined to give a number.
"We want to make sure we can get US citizens and their family members out as safely as possible," Miller told reporters.
He said that the State Department over the past 24 hours has contacted US citizens in Gaza and assigned them "specific departure dates" to leave through Rafah.
US officials have been pressing for weeks to allow citizens to depart Gaza including through talks with Qatar, a US partner which is home to an office of Hamas, the Islamist militant movement which controls the blockaded Palestinian territory.
Blinken told Congress on Tuesday an estimated 1,000 people, including 400 Americans and their close relatives, had been stuck in Gaza seeking evacuation from Washington.
Blinken will fly back to the region for talks on Friday in Israel. The State Department announced that he would also go to Jordan, whose relations with Israel have sharply deteriorated over the Gaza war.
Jordan, which was the second Arab state to make peace with Israel, said Wednesday that it was recalling its ambassador to the country to protest the "unprecedented humanitarian catastrophe" caused by the "ongoing Israeli war."
Asked about Jordan's move, Miller said of the United States: "We share the concerns they expressed about the dire humanitarian situation in Gaza."
"But ultimately, we believe that increased diplomacy is important and steps to reduce diplomatic channels aren't productive to our long-term shared goals and promoting a long-term solution to this crisis," Miller said.
More than 1,400 people were killed as Hamas attacked primarily civilian targets, including homes and a music festival, on October 7 in the deadliest ever assault on Israel.
Since then, the health ministry in Hamas-run Gaza says more than 8,500 people have been killed in Israel's bombardment, two-thirds of them women and children.
In the occupied West Bank, where Prime Minister Benjamin Netanyahu's hard-right government has supported Israeli settlers, violence has been on the rise with 120 Palestinians killed since October 7.
Miller said that violence by settlers is "incredibly destabilizing and counterproductive to Israel's long-term security in addition to, of course, being extremely harmful to the Palestinians living in the West Bank."
"We have sent a very clear message to them that it's unacceptable, it needs to stop and those responsible for it need to be held accountable," Miller said of US contact with the Israeli government.
© 2023 Latin Times. All rights reserved. Do not reproduce without permission.