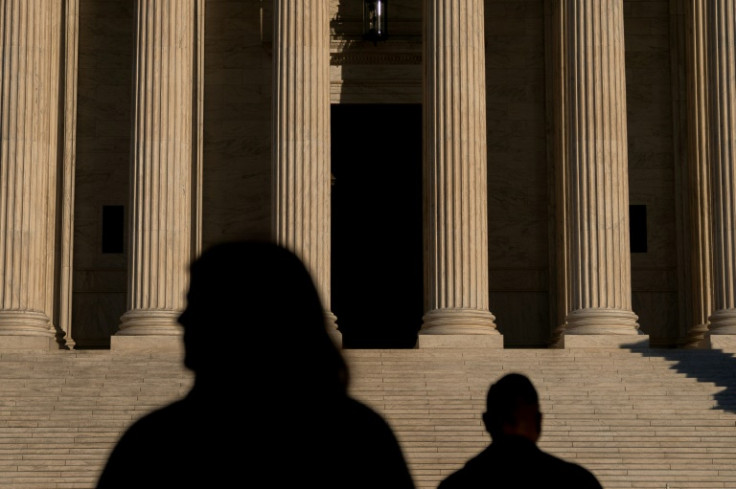 The conservative US Supreme Court has an opportunity on Tuesday to clarify its latest case law on the right to bear arms, which has caused confusion in American courts -- though it remains to be seen whether it will seize it.
Two weeks after a mass shooter left 18 people dead in the northeastern state of Maine, the court is addressing the particularly sensitive issue of gun rights following a controversial ruling in June 2022.
The justices on Tuesday will be asked to weigh the Constitution's Second Amendment right to bear arms against a law designed to protect victims of domestic abuse.
In the 2022 decision, carried by the six conservative justices against their three liberal colleagues, Justice Clarence Thomas explained that the court would henceforth authorize only "reasonable" exceptions to the Second Amendment, notably in "sensitive places."
Because of the ruling, lower courts across the country have had to determine whether gun restrictions before them are consistent with precedents in "the history and traditions of the United States" from the late 18th to the 19th century.
On the basis of that new case law, an ultraconservative federal appeals court ruled in March that a federal law banning gun ownership by people with domestic violence restraining orders was unconstitutional, for lack of historical precedent.
In the Texas case the ruling concerned, police recovered a handgun and a rifle during a search of the home of a suspect implicated in five shootings in two months, and subject to a restraining order on behalf of a former girlfriend, which prohibited him from possessing weapons.
The Justice Department, in its arguments in favor of the domestic violence restraining order restrictions, cites a long tradition of the government restricting gun ownership to "law-abiding citizens."
But in their written arguments, the public defenders for the suspect, currently in prison, claim that "the government cannot point to a close relative, a distant cousin, or anything bearing even a passing resemblance" to the domestic violence legislation concerned.
The requirement of a precursor text for any limitation on the Second Amendment has given rise to conflicting rulings and legal uncertainty, Biden administration counsel Elizabeth Prelogar, who is arguing before the Supreme Court, has said.
Several judges have publicly expressed their bewilderment at the additional historical and legal contextualization required of them by the Supreme Court.
"Myriad and obvious public safety laws, some over a century old, face inconsistent invalidation," noted one of them, Stephen Higginson, in August, in another gun case before the conservative Fifth Circuit Court of Appeals, which handed down the decision up for debate on Tuesday.
"The impact of these challenges, outside of the evident yet indescribable tragedies of victims of gun violence, will fall heavily on states, which exercise most police power and must assure public safety," warned Higginson, a judge appointed by a Democratic president, unlike most of his colleagues on the court.
© 2023 Latin Times. All rights reserved. Do not reproduce without permission.