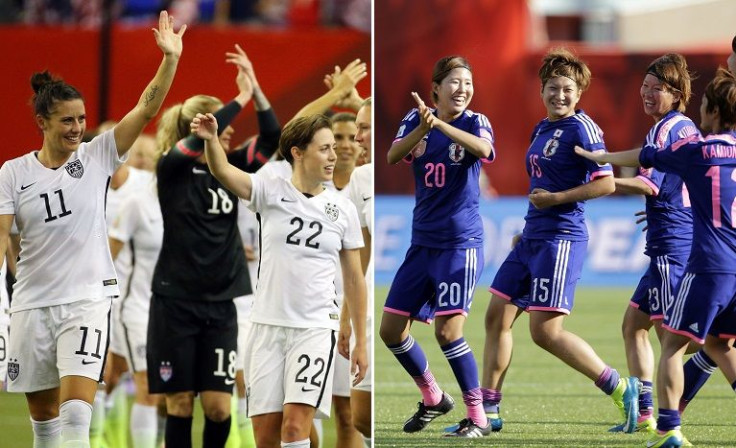 FIFA Women's World Cup 2015 Final: England gave USA National Team a chance for revenge against Japan, which beat the Americans in a shootout in the 2011 World Cup final. Four years later the 2015 Women's tournament final is set after a shocking own goal from England sent Japan to a rematch of the last Women's World Cup when they face each other July 5 at 7:00 p.m. ET at BC Place Stadium in Vancouver, Canada. This is a familiar foes rematch against two of the best soccer women's national teams.
Japan is looking for their bi-championship title at Women's World Cup 2015 but they will have to face a familiar foe to do it. Japan is ranked 4th in the world. They are considered as the underdog; however they defeat the United States in the 2011 FIFA Women's World Cup in a penalty shootout. Because of that, they claim their first tittle and the Asian team to do so, and becoming only the fourth women's world champions, together with Germany, USA two each one and Norway.
On the other hand, The United States might have England to thank after the Three Lionesses have shown a way to beat Japan. However, high pressure, physical play and an aggressive attack neutralized Asian team's ability to move the ball, which they use to create priceless chances. While Japan seems to be slowing down, the US team is heating up at the right time, showing their best soccer in the finals against the top-ranked team in the World in Germany.
Once again, Japan vs. USA both tames look to get victory in this final 2015. Players to watch in this game: as one of the three Americans players to miss the spot in the final shoot-out at Germany 2011, Carli Lloyd was not about to do the same, however, keeping her talent, she sent the imposing Nadine Angerer the wrong way to put the Americans 1-0 up. On the other hand, Yuki Nagasato was the sole Japanese penalty taker who failed to convert in 2011 however Japan lifting the trophy four years ago.
Prediction: USA Wins 2-1
Betting Favorite: USA -1
Over/Under: 2 Goals
Here is what you need to know about Sunday's big Final day for USA vs Japan: they play at 7:00 p.m. ET, game will be aired by TV: Fox in English and Telemundo in Spanish. Live Stream: NBC Sports Live Extra, Fox Sports Go. Who Will Win Revenge Match Final at 2015 Women's World Cup? Vote here!
© 2023 Latin Times. All rights reserved. Do not reproduce without permission.