A police investigation has been initiated in Wales to track down the vandals who cut down a rare and protected osprey nest with a chainsaw, Friday.
In what has been described as a "horrific act of vandalism," by the Brenig Osprey Project, the callous incident occurred at about 9:45 p.m. at Brenig Lake, a reservoir in Northern Wales. The platform was mounted with cameras, and the organization had celebrated the breeding pair laying an egg, just the day before, CNN reported.
According to a tweet from the North Wales Police Rural Crime Team on Saturday, the perpetrator or perpetrators is believed to have come by boat to destroy the platform. The crime team said they were appalled by the disgraceful act.
The platform was chopped down in only three minutes, according to the police, and the chainsaw can be heard in a video posted on social media. In the fall, the egg that was laid a day before was destroyed.
NWP Rural Crime Team Manager Rob Taylor stated that they are attempting to ascertain the reason for the crime and are reviewing security camera footage in an effort to gather evidence from the public.
The ospreys are very iconic, said Taylor, in a video posted on Twitter.
"We're trying to catch the person responsible for this, and believe me, they will receive the full force of the law," he said.
"The whole team is absolutely devasted by it and I'm sure the whole community as well. These birds give a lot of people a lot of pleasure. I just can't understand how anybody could actually go and do something like that," Taylor added. In the surveillance footage, that is pointed at the nest, the sound of the chainsaw whirring is heard, just before the nest is chopped down ruthlessly and falls into the lake.
Ospreys, also known as fish hawks, seahawks, and sea eagles, are fish-eating birds of prey.
According to the Dyfi Osprey Project, they are extremely uncommon and are protected in the UK, with only around 300 breeding pairs in the entire country.
The birds, their nests, and eggs are legally protected, and it is, therefore, an offence to deliberately take, harm, or kill a wild bird's nest while it is in use or being constructed, as well as to intentionally take or destroy a wild bird's egg, according to the Wildlife and Countryside Act 1981. An offence in this regard is punishable by up to six months in jail and/or a £5,000 (approximately $6,900) fine.
Ospreys lay around two to three eggs a year, and the Brenig Osprey Project said its workers are overseeing another platform, that is cleared for the birds to use as their nest.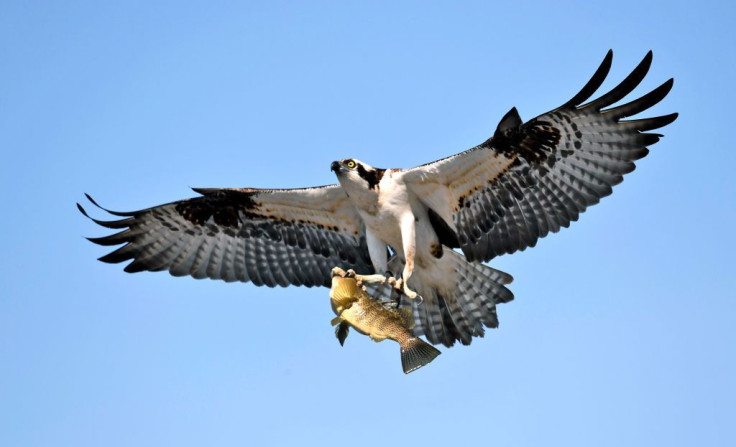 © 2023 Latin Times. All rights reserved. Do not reproduce without permission.