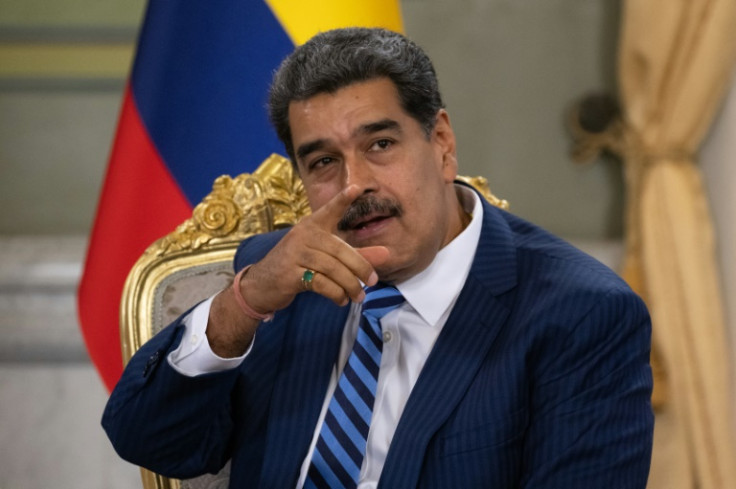 Venezuelan President Nicolas Maduro will visit China from Friday to Thursday, Beijing's foreign ministry said.
Beijing has close relations with the internationally isolated oil-rich nation and is one of Caracas's main creditors.
China has backed Venezuela's warnings against what it calls foreign interference in the country, whose economy has been wracked for years by crisis.
"At the invitation of President Xi Jinping, President of the Bolivarian Republic of Venezuela Nicolas Maduro Moros will pay a state visit to China from September 8 to 14," foreign ministry spokesperson Hua Chunying said in a statement.
Venezuelan Vice President Delcy Rodriguez visited Shanghai and Beijing this week, meeting Chinese foreign minister Wang Yi, in one of the most high-level visits by officials from Caracas to China in years.
"China and Venezuela have forged an unbreakable, ironclad friendship, and China firmly supports Venezuela in safeguarding its national independence and national dignity," Wang said.
The visit was aimed at securing fresh oil investment from Beijing and discussing a possible joint venture between Venezuelan and Chinese petroleum firms, Bloomberg reported.
Caracas has long sought help from Beijing in bolstering its crisis-hit economy.
Maduro last visited Beijing in 2018 -- his tenth trip to China -- where he praised President Xi's vision of a "common destiny for humanity".
The Venezuelan leader, who frequently rails against the US, said it was a destiny of peace "without a hegemonic empire that blackmails, that dominates, that attacks the people of the world".
Xi also visited Venezuela in 2014.
China loaned about $50 billion to OPEC member Venezuela in the 2010s, with Caracas repaying the debt with oil shipments.
The socialist-led Latin American country owed $20 billion to Beijing in 2018.
Maduro's visit comes as world leaders gather in India for a meeting of the G20 -- a summit Chinese President Xi has opted to skip.
Maduro, the heir to firebrand leftist Hugo Chavez, last won election in 2018 in a vote widely criticised internationally for irregularities.
The United States, then led by Donald Trump, declared Maduro to be illegitimate and recognized then opposition leader Juan Guaido, imposing sweeping sanctions on Venezuela including its key money-making oil sector.
But Guaido failed to take control and the opposition removed him late last year.
The United States under President Joe Biden says it still does not recognize Maduro and has mostly maintained sanctions.
But the Biden administration approved an oil project in Venezuela last year by Chevron and has voiced a willingness to ease pressure further in return for progress.
The country is due to hold presidential elections next year.
© 2023 Latin Times. All rights reserved. Do not reproduce without permission.