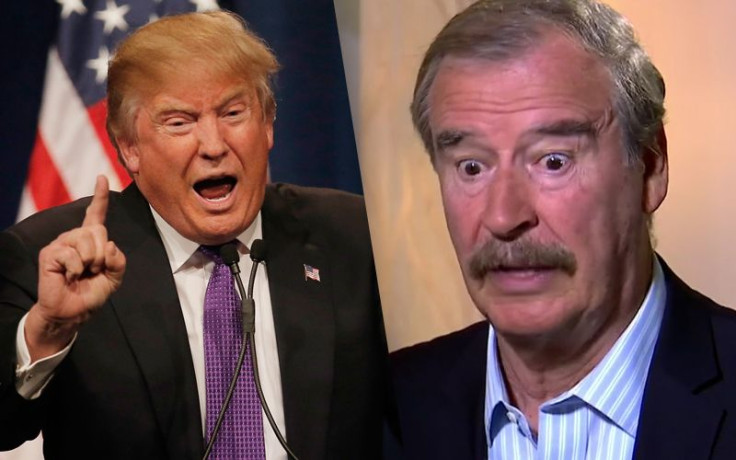 Vicente Fox has been very vocal on his dislike for Donald Trump and has been trolling him on Twitter for a long time. For a long time, the former Mexican president has been adamant on his stance that the citizens of México will not pay for the "f**ing wall," but he has recently had a change of heart. A day ago he wrote: "Donald Trump wants to stop extremists with walls and war. Go and build the [expletive] wall around you and spare us from your evil."
Fox has now tweeted a cartoon of the POTUS surrounded by a wall with words like "fear," "lies," "ignorance" and "Trump racism" inside and people outside saying "I feel safer already."
During the campaign and in an interview with Washington Examiner the Vicente Fox attacked Trump supporters calling them lazy and drunks. He said, "We need to wake up that citizen. We need them to take them away from the TV and drinking beer, to working hard, to getting the skills, to getting knowledge, and they will come along, like everybody else."
His attack was after Fox apologized to Trump for dropping an f-bomb when talking about the wall the Republican candidate plans on building at the U.S. and Mexico border. "If I offended you, I'm sorry," Fox told Breitbart. He then asked, "but what about the other way around," referring to the insults Trump had for Mexican immigrants. Former Mexican president also went on "The O'Reilly Factor" and said: "I think it's very important to invite Donald Trump to come to Mexico and to learn about the real Mexico."
Fox has been at odds with Trump and has used the media and social networks to call out his bigotry. Fox denounced Trump's plans of making Mexicans pay for the wall he proposed to build between the U.S.-Mexico border to stop immigrants crossing over illegally. "I am not going to pay for this f***ing wall," he said in an interview recently. Fox also said about Trump: "He is a loud-mouth, arrogant, ignorant who has no idea what it is to sit in the chair of the U.S. presidency. To follow a false prophet like Donald Trump, to follow him into the desert without knowing where he's going, is very dangerous."
© 2023 Latin Times. All rights reserved. Do not reproduce without permission.