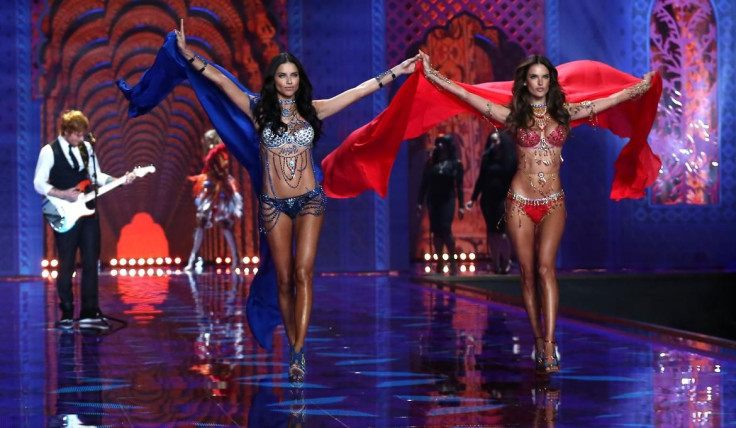 It's no mystery that Victoria's Secret Angels work hard to maintain their impeccable physiques, especially before their annual big show. Yes, genetics are on their side, but what exactly do they do and eat to look like they just came down from heaven? We have some answers from the two Latina and longest serving angels that wowed at the London show with their angelical long legs and gold wings! Both Adriana Lima and Alessandra Ambrosio are moms of two and have managed to juggle it all, including living a healthy lifestyle with insane workout routines. Lucky for us they've revealed their secrets, now it's up to us if we can keep up!
Dark hair, green-eyed Brazilian beauty, Adriana Lima, credits boxing several times a week with exclusive trainer Michael Olajide, Jr. for her amazing body. Lima trains like a professional boxer in 90 minute, super intense workouts each time. Not long ago, the angel told the Daily Burn it took her a long time before she found a workout that fit her personality: "I knew I wanted to be healthy and find a workout that would fit my personality. I tried many different things: spinning, aerobics, step, yoga. And then I tried boxing and I loved it; it became my passion." Her diet comes as no surprise as it includes steamed chicken, lots of green veggies and whole grains. Lima adopts a no-salt, no-liquids diet and ups her workouts to two per day before the show. If that wasn't enough, she supposedly stops drinking completely 24 hours before putting her wings on in what's called a "dry out"; she says, "You can lose up to eight pounds just from that."
As for the drop-dead gorgeous brunette, Alessandra Ambrosio says it's important to "break a sweat every single day." Ale, as her friends know her, does mix workouts to ensure she doesn't get bored and her entire body gets perfectly toned. Ambrossio explained in her blog, "One workout is a lot of weights and the other is no weights at all, so I think it's a balance." Her non-weight sessions may include yoga, Capoeira or ballet, which many angels resort to as a main workout. This Brazilian angel is surprisingly relaxed with her diet and even admits she picks on her kids' dinner before sitting down to eat her own. She's a big Japanese food fan and starts each day with eggs, whole grain muffins, coffee and "always something green" like her favorite smoothie, which includes berries and kale.
Of course, like Virgin Active personal trainer Michael Hutchison says, techniques like a "dry out" or other tricks professional models use, are not to be taken on by people who want to lose weight safely.
© 2023 Latin Times. All rights reserved. Do not reproduce without permission.