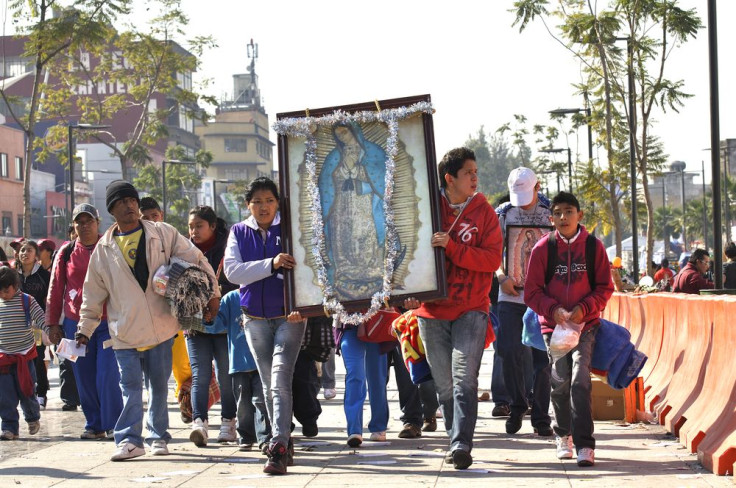 December 12 marks a very significant day in Mexico, as the country prepares to honor and celebrate the Virgin Mary for Dia de la Virgen Guadalupe, in anticipation of the celebrations which will see people from all parts of Mexico make their way to Mexico's chief religious center at the Basilica of the Virgen of Guadalupe, located in Villa de Guadalupe Hidalgo, Telemundo will air a very special holiday presentation. On Thursday, December 11 at 11:35 p.m. only minutes before the official start of the holiday, Mexican actress Aracely Arámbula, will join superstar Lucero to sing "Gracias Morena." Joining the pair is Ángela Aguilar and Gerardo Ortiz, who will also honor Our Lady of Guadalupe during the television program, "Virgen de Guadalupe." The special is a must-watch event with Aracely Arámbula presenting a new song that she wrote about her devotion to the Virgin Mary, the lyrics of the tune tell how she, as a child, would visit the sanctuary dedicated to the Virgin with her parents. Her family told her that the Virgin would always watch over her, she says, and today as a mother she follows the same tradition with her children, Miguel and Daniel, who she considers her greatest blessings.
The show which will be an emotional program, will also feature Lucero returning to the Basilica of Guadalupe, the "Yo Soy el Artista" judge will be revisiting her childhood and sing in the sanctuary as she has since she was just 11. To honor and celebrate the Virgin on this special feast day, Lucero will wear an elaborate "charra" outfit decorated with images of the Virgin and will sing two songs in her honor. Like her fellow performers, Ángela Aguilar will sing a tribute to Our Lady, whose feast, she has celebrated devotedly with her father, Pepe Aguilar, since the age of 7, when the two sang together at the December 12 festivities in Los Angeles, California. Further, Gerardo Ortiz will also sing at the event for the first time, joining a mariachi band in a performance of his hit "Perdóname." The most anticipated performance of Telemundo's "Virgen de Guadalupe" special will feature all four celebrities together on stage. As is tradition, will Aracely Arámbula, Lucero, Ángela Aguilar and Gerardo Ortiz will join together to sing "Las Mañanitas" in homage to the Virgin of Guadalupe.
Be sure to tune in to Telemundo tonight, Thursday, December 11th at 11:35 p.m. in order to catch all of the performances and celebrations in honor of the Virgen de Guadalupe.
© 2023 Latin Times. All rights reserved. Do not reproduce without permission.