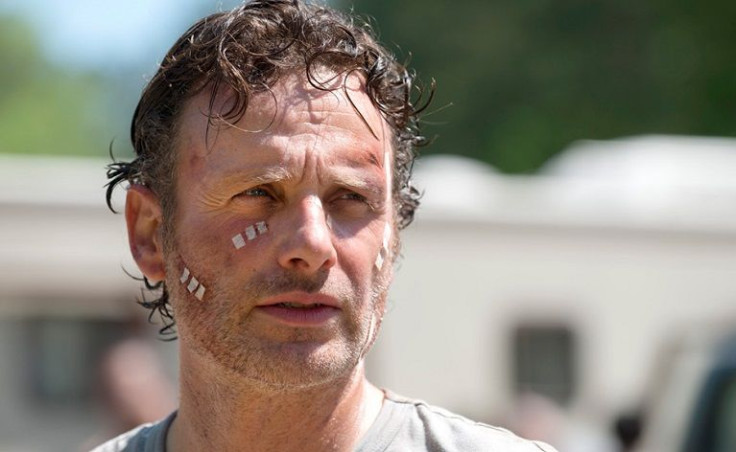 Tonight is an all-new episode of "The Walking Dead" on AMC and still no word on Glenn's situation. If you recall last weeks episode "Here's Not Here" focused on Morgan's (Lennie James) past and introduced us to his mentor and short lived character Eastman played by John Caroll Lynch.
While this series does have a reputation for killing off important characters we believe Glenn is still alive. If Glenn is to die we believe it'll be the way of the comics, which would involve Negan. And since both Robert Kirkman and Scott M. Gimple have both confirmed that Negan will appear on the TV adaptation of "The Walking Dead" at some point we'll hold our breath til then.
From the promo trailer and sneak peek clip released for "Now" we know that the Alexandria citizens have been through it and are still shaken after the wolves attack. We also know that Michonne (Danai Gurira) and her group made it back to base and she has broken the news of Glenn's (Steven Yeun) to Maggie (Lauren Cohen) who is preparing to go out and find her husband. Check out both videos below.
The synopsis for "Now" reads: "The mood in Alexandria is quite grim after a number of setbacks, which might prove too much for the sheltered citizens inside the gates."
"The Walking Dead," "Now" will air on Sunday, Nov. 8 starting at 9:00 p.m. EDT on AMC and will be available the next day on VUDU, amc.com, iTunes, Amazon, Google Play, Xbox Video and more. AMC does offer a live stream service via its webiste but you must be a subscriber to the network through your cable provider.
If all else fails and you don't happen to subscribe to AMC you can watch the episode here, here and here.
© 2023 Latin Times. All rights reserved. Do not reproduce without permission.