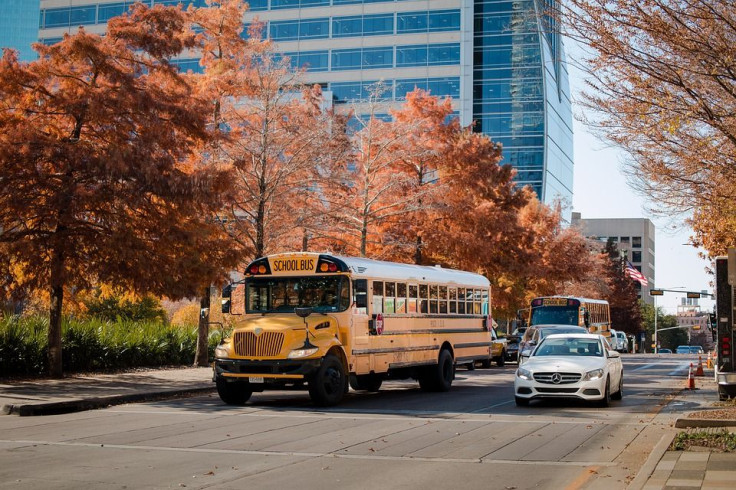 The New York Police Department is on the hunt for the man who allegedly mowed down a female school bus driver in Brooklyn last Friday during a heated confrontation. The violent incident occurred at a traffic light at Linden Boulevard and Hinsdale Street around 5:15 pm.
The 17-second video footage released by the police captured an unidentified man alighting from a 2020 gray Subaru Crosstrek and approaching the female driver of the school bus. The man can also be seen banging on the side of the school bus. He then gets back into his car and starts flooring the pedal of his vehicle to the left of the bus and deliberately mowed down the female driver as soon as she got down from the bus to take a picture of his car.
(This video contains graphic content).
EMS responded to the scene and the 44-year-old victim was rushed to Brookdale Hospital where she is listed in critical but stable condition. The female driver sustained trauma throughout her body along with a fractured pelvis, some cuts to her liver as well as a fractured rib.
According to NBC New York, no children or other passengers were on board the bus at the time of the incident,
Police investigations indicate the two drivers got into a verbal dispute after the Subaru driver tried to drive around the bus but was cut off.
The school bus driver was at a red light when the Subaru behind her started honking. An NYPD spokesman speculates the suspect became irate because the bus was not moving fast enough for his liking.
Authorities put up a $2500 reward in search of the driver and for any information leading to his arrest. The suspect is described to be an adult male with dark complexion, about 5 ft 7 inches tall and weighs around 155 pounds with a thin build. At the time of the incident, the man was wearing a light colored jacket and a pair of blue jeans with a green do-rag.
A picture of the suspect's vehicle has also been circulated along with its license plate that the female bus driver was able to capture on her camera before he ran her over.
Anyone with information in regard to this incident is asked to call the NYPD's Crime Stoppers Hotline at 1-800-577-TIPS (8477).