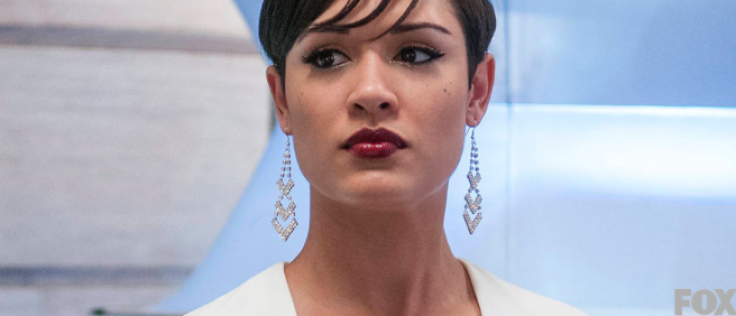 Tonight is a brand new episode of "Empire" on Fox and we are dying to find out how and why Anika (Grace Gealey) betrayed Lucious (Terrence Howard) and Empire Entertainment. Fair warning if you have not caught up on recent episodes stop reading now as this article contains spoilers!
In the last episode "The Lyon's Roar" we witnessed so much relationship drama in the love triangle that is Cookie (Taraji P. Henson), Lucious and Anika. First Anika confronts Lucious about his extra marital affairs with Cookie and forces him to make a decision. Lucious is torn and can't decide between the women but ultimately chooses to marry Anika. However, Cookie enraged at the news informs her that the two had sex more times than she's aware of which of course angers Anika, who goes out and seeks revenge in the arms of Lucious' long time rival Billy (Judd Nelson). We also seen Cookie and Hakeem (Bryshere Y. Gray) grow closer and Jamal (Jussie Smollett) finally came out during a solo performance at the white party.
In the promo trailer for tonight's episode we know it will primarily deal with Anika's actions. First and foremost Cookie somehow finds out that Anika is a traitor and reveal this to Lucious. Then we see an epic confrontation between Lucious and Billy involving lots of guns! Check it out below!
The TV Guide episode description for "Unto the Breach" reads: "Cookie declares war on Anika after discovering the big, backstabbing secret that her ex-husband's girlfriend has been keeping; at the same time, Lucious comes face-to-face with a longtime rival; and Jamal cozies up to a famous artist when he and his brothers take drastic measures to save Empire Entertainment."
There are more than a few ways to watch tonight's episode of "Empire" online. Some of the free ways to watch include viewing the episode on FOXNOW, Xfinity and Hulu. These options of course require you to have an account or subscription. You can also buy the episode online via iTunes, Vudu and Amazon Prime. The episodes range from $1.99 to $2.99. To watch "Empire" using any of these options you have to wait until the day after it airs on broadcast TV.
© 2023 Latin Times. All rights reserved. Do not reproduce without permission.