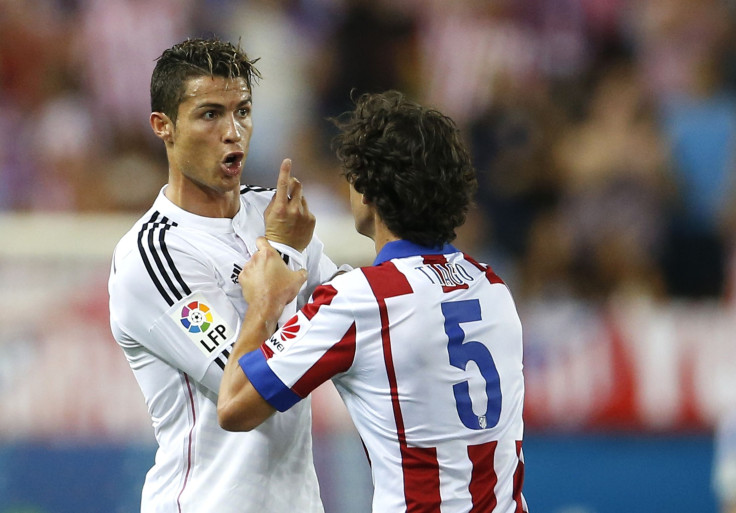 As we all know, soccer can be a very physical and sometimes rough sport; especially on set pieces. As evidenced with Luis "The Cannibal" Suarez in the 2014 World Cup, a lot of pushing, shoving, kicking, biting and punching can occur in the box off of a corner kick. Recently, in the final leg of the Supercopa de España, things got very physical on the final play of the game between Real Madrid's superstar, Cristiano Ronaldo and Atlético's Diego Godín.
In the final seconds of stoppage time with Atlético leading 1-0, the reigning FIFA Ballon D'Or Winner knew that Real's upcoming corner kick might be the last opportunity they would have to equalize. Unfortunately, Atlético's Diego Godín knew this as well. Both players got tangled up in the box and it appeared that Ronaldo threw not one, but two punches at Godin as he fell to the ground. Atlético's goalkeeper, Miguel Moya ultimately knocked the ball away and Atlético went on to defeat their arch rivals.
The punch itself was significant as Ronaldo only a got a yellow card on the play. An intentional punch in the sport of soccer is an immediate and red card for their player who throws the punch and they are suspended for the following match. In the case of Ronaldo it appears the referee saw the blow as incidental conduct and chose to not show him red. After the game however, video evidence as you can see for yourself below, seems to show that the punch was deliberate. Either way, Ronaldo, if physically fit will be in the lineup for Los Blancos on Monday against Cordoba.
© 2023 Latin Times. All rights reserved. Do not reproduce without permission.