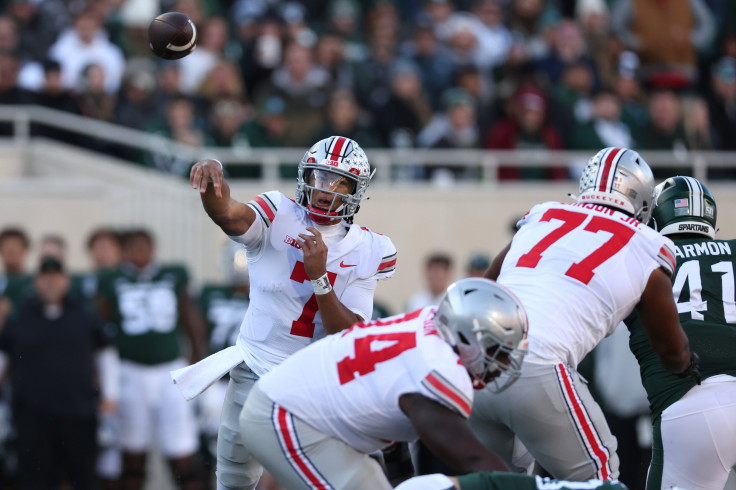 The 2022-23 college football bowl season is here, which means the 2023 NCAA College Football Playoff (CFP) semifinals and championship game are right around the corner.
The 2023 NCAA CFP semifinals will consist of a double header Saturday, Dec. 31. The winners of the Fiesta Bowl, No. 2 Michigan vs. No. 3 TCU, and the Peach Bowl, No. 1 Georgia vs. No. 4 Ohio State, will contest for the 2023 College Football Playoff National Championship, January 9, 2023, at SoFi Stadium in Inglewood, California.
Saturday will display high-profile prospects and seniors buckling up their chin straps for the last few games of their collegiate career.
Both CFP semifinal games will highlight some of college football's most elite quarterbacks, dynamic receivers, playmaking corners and NFL ready prospects the NCAA Division I Football Bowl Subdivision (FBS) has to offer.
Here are 3 things to watch for in this weekend's CFP semifinals
Will Ohio State's C.J. Stroud be the top quarterback prospect in the 2023 NFL Draft?
The two-time Heisman finalist is arguably the best quarterback prospect in the CFP, with the potential to be a top-five pick in the NFL Draft come April. In 2022, there was much debate over which quarterback prospect will be selected first Alabama Crimson Tide's Bryce Young or the Buckeye's C.J. Stroud. Across 12 games Stroud threw for 3,340 yards, 37 TD's, 66.2% completion rate and only 6 INT.
Sports Illustrated describes the California native as a, "mature, highly intelligent, pocket-passer who makes smart decisions, does a phenomenal job of reading through his progressions and understands when to add zip or touch."
On Saturday, Stroud can solidify himself as the best QB in college football, as he faces the top-ranked Georgia Bulldogs.
Is TCU's Quentin Johnston the best wide receiver in NCAA Football?
Temple, Texas native, Quentin Johnston, is one of the most physically impressive pass-catchers in the nation. With a strong performance, Johnston could solidify his status as the 2023 draft class' top wide receiver.
In 2022, Johnston caught five touchdowns, averaged 17 yards per catch and accumulated a total of 903 yards for the Horned Frogs. At 6-foot-4, the TCU standout's blend of size and speed is unlike anything in the college game today.
Johnston will face a duo of cornerbacks, Saturday, against the Michigan Wolverines in DJ Turner and true freshman Will Johnson. If the future first-round pick is able to get going early, it could be a long day on the outside for the Wolverines' secondary.
Will Georgia Bulldog's Jalen Carter be the first defensive lineman selected in the 2023 NFL draft?
Between Alabama stud edge rusher Will Anderson Jr. and Georgia defensive tackle Jalen Carter, it is a matter of a coin toss to see who will be the first to come off the NFL draft board this spring.
Ohio State's center Luke Wypler, will have his hands full guarding the 6-foot-3 300-pound run stuffing Georgia defensive lineman Saturday. Carter had 3 sacks, 29 tackles and 2 forced fumbles for the Bulldogs in 2022.
Although Wypler has allowed just six pressures in 402 snaps in pass protection in 2022, Carter is an entirely different animal. The Apopka, Florida native may be the top overall player from the 2023 class when we look back five years from now, according to TheDraftNetwork.com.
© 2023 Latin Times. All rights reserved. Do not reproduce without permission.