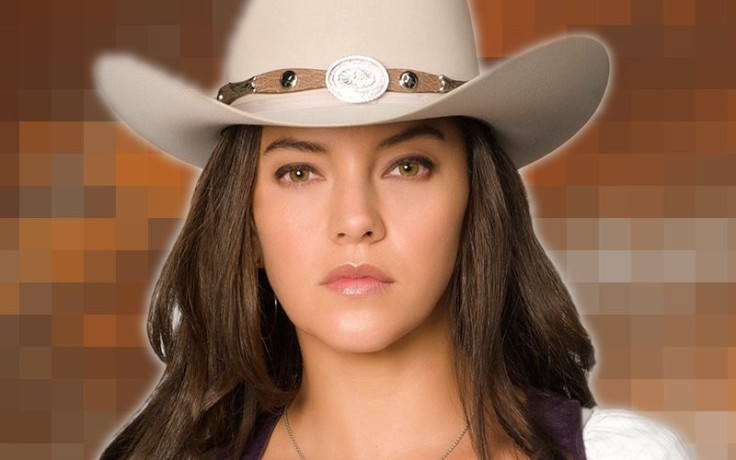 "Camelia La Texana" is the brand new Telemundo telenovela produced by Argos Television in Mexico starring Sara Maldonado. With narco-novelas being so popular on the Hispanic network like "La Reina Del Sur," "El Señor De Los Cielos" and "Pablo Escobar: El Patrón Del Mal" it is an obvious decision why they decided to produce this new tale. The premise of "Camelia" revolves around a young and innocent woman that tries to run away from her destino. The story starts in the '70s when Camelia and her mom run away from one of the most prominent capos in Mexico. When Camelia finds love, she realizes that this man is after her and will bring her back to that world that her mom wanted to protect her from. Here are 5 things to know about the real-life inspiration for "Camelia La Texana":
1. "Camelia" sounds like it could be a real-life story, but it is completely fiction based on the hit classic song "Contrabando y Traición" by the legendary "Los Tigres Del Norte." 2. The song became such a success that a movie was produced in 1977 starring Ana Luisa Peluffo as Camelia and Valentín Trujillo es Emilio Varela. Those roles are now played by Maldonado and Erik Hayser, respectively. 3. Just as the corridog played well with audiences, the film version did well at the box office that it spawned sequeles like "Mataron A Camelia La Texana," "Emilio Varela Vs. Camelia La Texana" and "El Hijo De Camelia La Texana."
4. However, a woman by the name of Agustina Ramirez claims that Camelia was inspired by her life experiences. She alleges that her nickname of Camelia came to distinguish herself amongst the narcos and Texana because she wore a texana sombrero. 5. Ramirez said that at one point she had 27 men at her disposition that were frightened by her. 6. Agustina says she was raped at the age of 6, which made her turn on men thinking that they were not worth it. 7. The love story between her and Emilio Varela was made up by the songwriter as Ramirez says that a man like Varela never existed in her life. 8. She believes that the corrido was written after she went on to a radio station in 1977 to tell her life story and inspired the song writer. But the song was written in 1971 and produced in 1972, making the dates not match.
9. Agustina is now a preacher in the Christian church community and helps youngsters keep off drugs. 10. Part of the success of the song was the mention of California cities like San Ysidro, San Clemente, San Antonio, Los Angeles and Hollywood. "Camelia La Texana" takes on a new life as the new Telemundo telenovela which premieres Tuesday, Feb. 25 at 10 p.m. ET. Listen to "Contrabando y Traición" down below and tell us what you think.
© 2023 Latin Times. All rights reserved. Do not reproduce without permission.