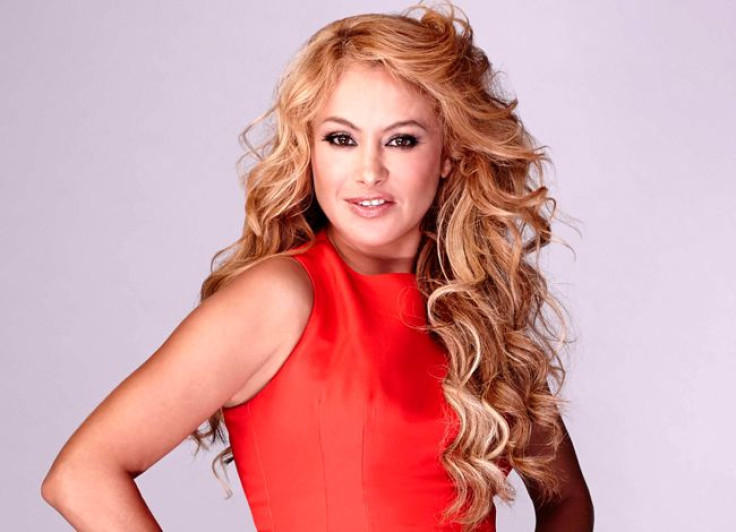 "The X-Factor" Season 3 premieres tonight on FOX with an irreverent panel of judges like Simon Cowell, Demi Lovato, Kelly Rowland and Paulina Rubio. This last judge is being dubbed a global superstar on the show as she has vas experience in the music industry. Although most of the U.S. English-speaking audience might not be too familiar with Rubio, if you go south of the border to Mexico and Latin America, you mention her name and people will know who you are talking about. The addition of Paulina to the panel comes after ratings for the reality show failed to increase viewership during its sophomore season with Britney Spears as the mentor. "She's very Latin, passionate, excitable, she can be a bit crazy and a lot of the time I don't have a clue what she's talking about and she's actually great fun to be around," says fellow judge Simon Cowell.
"She's fabulous and fierce, but she is a firecracker and you never know what is going to come out of her mouth; that's what makes it so exciting. Pretty much everything she says, just makes me laugh," Lovato said of her older sister. While Kelly Rowland also weighed in and said, "I love how fiery she is and how she'll give it to you in one big dose." Paulina is no wallflower and has earned her spotlight in the music business, if you don't know her yet, you will starting tonight, but before the show starts here are 5 things to know about the Latin superstar.
1. Born A Star
The new "X-Factor" judge was born a star on June 17, 1971 as Paulina Susana Rubio Dosamantes. The diva was destined to shine as her mother, Susana Dosamantes, is a well respected Mexican actress that has appeared in a series of telenovelas and cinema. Being around all the glitz and glamour, Paulina was enrolled at the Televisa acting school where she took singing, acting, jazz, painting and dance classes to prepare her for the future as an entertainer. After two years she was given an opportunity that would change her life forever...
2. Recording Contract At 7
Paulina shares on the video below that she got her first recording deal at the tender age of 7 and it's true. The blonde beauty was handpicked to take part in a kids musical group named Timbiriche. The band was extremely succesful that as they grew older their popularity rose along with them. Rubio was one of the longest lasting members of the original group, being there for eight years before pursuing other career moves. The band received the complete support of Mexican media-giant Televisa and the starts were repurposed into telenovelas and other television series. Timbiriche disbanded a couple years after Paulina left the group.
3. Solo Career Boom
After she left Timbiriche, she focused on a solo career and released her first album in 1992 titled "La Chica Dorada." The record was an instant hit with lead single "Mio" followed by "Amor de Mujer" and "Sabor a Miel." Rubio had a solid solo career in her hands, but when she really hit the jackpot was in 2000 when she released "Paulina," an album that include chart-topping hits like "Lo Haré Por Ti," "El último Adios" and "Y Yo Sigo Aquí." This album was certified 8x Platinum in the U.S. and 4x Platinum in Mexico and Spain. The success of this led to another career move and the release of...
4. Border Girl
Rubio had made a previous attempt to tap into the Anglo market with an album released in 2002, titled "Border Girl." Her first single was "Don't Say Goodbye" which also had a Spanish version titled "Si Tu Te Vas." The single was her most prominent hit in English, peaking on the Billboard Hot 100 at #41. The album was a success in the U.S. selling more than 500,000 copies during its life, but it was primarily due to sales within the Spanish-language community.
5. Judge On Other Reality Shows
Paulina is very comfortable with being in front of a camera and also has experience juding on other reality shows. Last year she was a judge on the Mexican version of "The Voice" and earlier this year she continued spinning chairs but on the Telemundo version titled "La Voz Kids." Rubio is a personality that likes to shine and likes to be heard. She has vast experience in the industry and has been able to lead a successful career, despite critics saying she doesn't have the most spectacular voice. The "Stereo" singer knows that it takes to be in the business and is a woman of convictions that knows what she wants and what she likes. The knowledge that she has will be extremely beneficial to the singing hopefuls she mentors.
Catch Paulina Rubio and "The X-Factor" every Wednesday and Thursday at 8pm ET on FOX. Are you excited for the new season of the music competition?
© 2023 Latin Times. All rights reserved. Do not reproduce without permission.