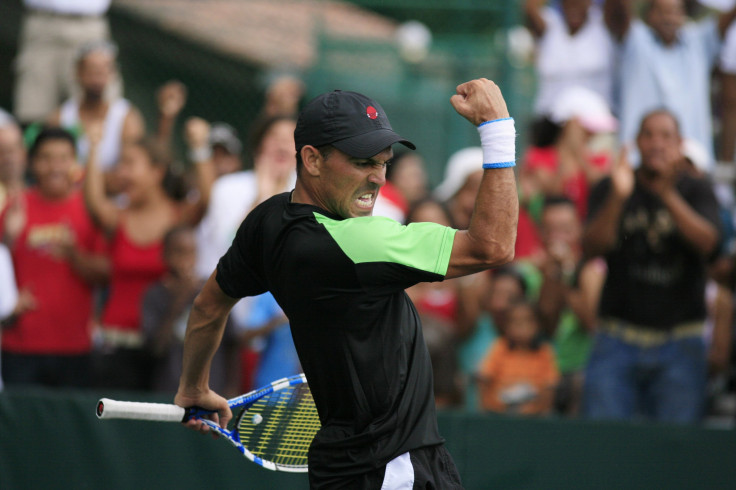 On Tuesday, August 26, the first Dominican ever to compete in the US Open, not only did so, but won his first Grand Slam. Víctor Estrella Burgos made history, when he took the tennis court and made it his own at the age of 34, which is old in "tennis years." Encouraged by many fellow Dominicans, who went to the match to support the athlete, Estrella Burgos defeated Dutchman Igor Sijsling, 27, winning, 2-6, 6-4, 6-3, 6-2. "I was expecting a lot of Dominicans, but not that many," Estrella Burgos said, according to Fox News Latino.
"I started a bit nervous and for a moment I was upset that I was disappointing all these people who came to see me," he added. "But even if I would have lost that second set, I knew that I was going to be able to win." He continued recalling his experience in the court, and how he coped with his compatriots, who were cheering and calling out every move he or his opponent made. "Sometimes they were calling the ball out in the middle of a point. I have to tell them, 'Please don't call them out, because you're confusing me.' But it was great," he said.
Víctor Estrella Burgos' story is not what anyone would expect either. He had a humble start in the sport, and just when he thought he was done with professional tennis, his hopes were revived and his spirit became unbreakable. Here are 6 things to know about this athlete.
1) It all began when he was 8 years old and very hyperactive. His parents were friends with the manager of the Centro Español Club in Santiago, Dominican Republic, and asked him to make his son run a lot. Víctor ended up as a ball boy, but was watching and learning how club members would play the game.
2) He played with his heart, and although he had an immense talent, he couldn't get financial support to pursue his tennis career, so he eventually gave up and became a coach.
3) It wasn't until 2006, when a former coach, Sixto Camacho, asked him to be a hitting partner for a Puerto Rican team preparing to play the Davis Cup, that Estrella Burgos really considered making a comeback.
4) He made a living by playing in Futures and Challenger events, although his performance was unimpressive. However, it all changed in 2012 when he torn cartilage in his right elbow while playing the Davis Cup in Mexico and couldn't play for six months. This injury made him realize his time was running out, and after he recovered, he trained and played with a sense of urgency.
5) His recovery inspired him, and his game changed. Estrella Burgos became the first Dominican tennis player to reach the top 100 of the ATP rankings last February, when he won a Challenger tournament in Salinas, Ecuador. He climbed from being ranked 300th to 80th, which places him as a genuine competition.
6) Víctor acknowledges that although he might be a little old, he's not as worn out as other players who might have been playing professionally for longer. "I see that the guys from my generation, from the '80s, most of them have retired," he told The Associated Press. "But I really didn't play when I was 18, 19 or 20. I think my body is rested in that regard. I'm not worn out physically."
© 2023 Latin Times. All rights reserved. Do not reproduce without permission.