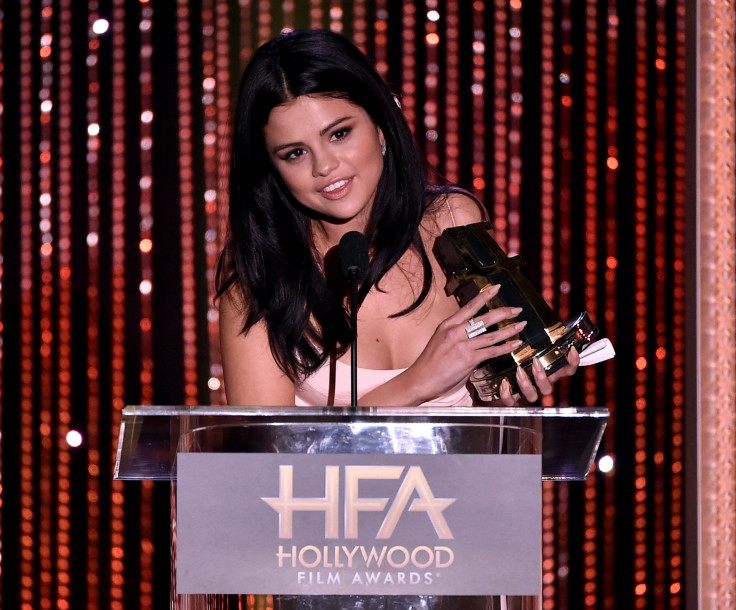 We're not sure if this means adding one more Hollywood BFF to Selena Gomez's list or adding one more person to those obsessed with Amy Schumer, but who cares, right? The point is Gomez presented Schumer with an award at the Hollywood Film Awards, and did nothing but gush about her before she joined her onstage. "I talk about her obsessively. I've tweeted her often. I try to impersonate her, and it doesn't really work," Gomez said according to reports from E! News.
The singer then joked about Schumer's friendship with J.Law saying, "I'm really happy that clearly Jennifer Lawrence wasn't able to do this tonight because I love you." Gomez went on to say that the comedian's inspired her no not take herself so seriously and feel bad-ass when most of the time she is not. "You say the things I wish I could say. And you never, ever make me feel bad for anything I do in my personal life," Gomez continued.
Just in case it wasn't clear, Gomez jokingly cleared up the fact that she's "a huge fan!" before the comedian joined Gomez on set to receive the Hollywood Comedy Award for "Trainwreck." "I didn't ask Jen, Selena – you're my first choice," said Schumer.
© 2023 Latin Times. All rights reserved. Do not reproduce without permission.