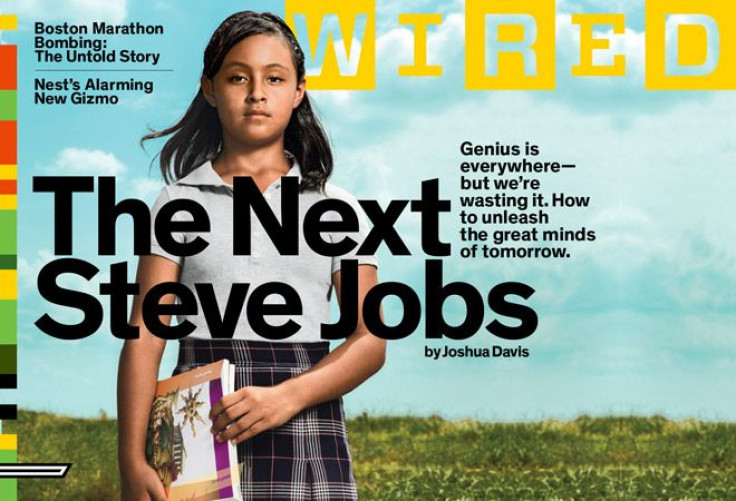 Mexican student Paloma Noyola Bueno has been toted "The Next Steve Jobs" by Wired Magazine in their November issue. The fifth grader, who scored first place in math and third place in Spanish on a national test, is emblematic of a new system of education achieving remarkable results. The 12-year-old lives in Matamoros, Tamaulipas in Mexico's far north. Her tiny school sits next to a trash dump across from the U.S. border: the Bureau of Diplomatic Security reports that drug related violence is of high concern in the area with people being "victims of armed robberies, sexual assaults, auto thefts, murder, and kidnappings." Despite all this, the José Urbina López School has captured the attention of the nation thanks to the remarkable, ground-breaking teaching methodology of Paloma's teacher Sergio Juarez Correa.
Juarez Correa himself grew up in Matamoros, and similarly underwent a school system that has become antiquated and ineffective. Wired reports that Correa found the state-approved curriculum "mind-numbingly boring" and achieved poor test results and a complete lack of student engagement. Indeed, a 2011 UNESCO study shows that while 98 percent of Mexican children are enrolled in primary school, only 73 percent make it to Secondary School. More shocking still, only 29 percent of the population make it to tertiary level. Indeed, Vanguardia reports that in 2012, the generation prior to Paloma's, 45 percent of students failed math and 31 perent did not pass Spanish. By Paloma's year, only 7 percent failed math and only 3.5 percent failed Spanish. This high-achieving class, it seems, could indeed produce the next Steve Jobs. The incredible results are thanks to a remarkable new approach by Correa.
It has long been known that children are more likely to engage in learning material when they are given the freedom to explore and problem-solve independently, to engage in the material in their own unique way. Systems like the Montessori Method, which encourage independent thinking have achieved remarkable results: in her 2005 Ph. D study on the Montessori system, Dr. Angeline Lillard of the University of Virginia found that Montessori students were more interested in learning, more disciplined, more independent and had a deeper understanding of geography, history and science. Correa also examined the work of Sugata Mitra, an Indian scientist whose experiments demonstrated that "if you put a computer in front of children and remove all other adult restrictions, they will self-organize around it, like bees around a flower."
Inspired by these methods of independent learning, Correa created a completely new method of teaching for his class. He placed the students in small groups, allowing them to learn from each other as much as they learnt from Correa himself. He inspired the students to engage with their own curiosity: asking "what did they want to learn about?" Despite a lack of technological capabilities in the school, Correa would still bring his students a wide scope of information: he would go home and research any topic that interested the students on the web, bringing in the information that was most relevant to them. Correa has embraced the fact that we have moved from the industrial era to the age of information: images, texts and information are processed at remarkable speeds. By inspiring and engaging kids in their own interests, inspiring them to solve problems and act independently, educators like Correa are are allowing children to fulfil their ultimate potential. Paloma's results speak for themselves.
© 2023 Latin Times. All rights reserved. Do not reproduce without permission.