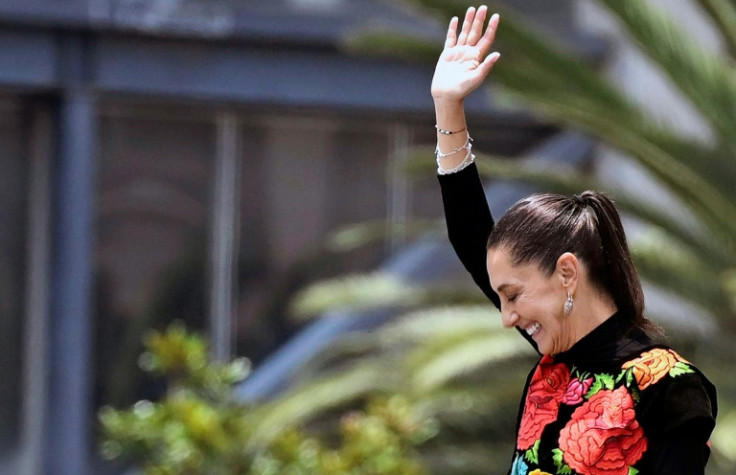 Mexico appears likely to take a step closer to choosing its first woman president when the ruling party announces its candidate Wednesday for next year's election.
Former Mexico City mayor Claudia Sheinbaum, a 61-year-old scientist by training, is seen as the favorite to represent President Andres Manuel Lopez Obrador's Morena party in the June 2024 vote.
The ruling party candidate will face Xochitl Galvez, an outspoken businesswoman and senator with Indigenous roots selected to represent the Broad Front for Mexico opposition coalition.
A survey published Tuesday by newspaper El Financiero showed Sheinbaum with 40 percent support, against 28 percent for her main internal rival, ex-foreign minister Marcelo Ebrard, the daily said.
Sheinbaum and Ebrard are both close allies of Lopez Obrador, a leftwing populist who enjoys an approval rating of more than 60 percent but is required by the constitution to leave office after a single six-year term.
If Sheinbaum wins the opposition nomination, it would significantly increase the chances of a woman leading Latin America's second-largest economy for the first time.
Both Morena and the opposition bloc opted to use public opinion polling to pick their nominees.
Ebrard wrote on social media Monday that he was "very concerned" about Morena's polling process, saying he would review what he called "incidents and problems."
Sheinbaum, the granddaughter of Bulgarian and Lithuanian Jewish migrants, is known for her reserved, cautious style and has vowed to continue Lopez Obrador's policy agenda.
Like the incumbent president, she portrays herself as a defender of the poor, including Indigenous communities.
The entry of Galvez -- born to an Indigenous Otomi father and mixed-race mother -- has shaken up the presidential race.
Her first name means "flower" in the Nahuatl Indigenous language, and her background sets her apart from the traditional conservative opposition.
She wears Indigenous clothing, uses colloquial language peppered with swear words and is known for traveling around Mexico City by bicycle.
The opposition coalition is made up of the Institutional Revolutionary Party -- which ruled the country for more than 70 years until 2000 -- the conservative National Action Party and the leftist Party of the Democratic Revolution.
Galvez, a 60-year-old computer engineer, has criticized Lopez Obrador's security strategy and said that "ovaries are needed" to confront organized crime.
Sheinbaum in contrast "wants to continue doing the same" as Lopez Obrador, Galvez said in an interview with AFP on Monday, pledging a new approach.
"I don't want to keep betting on fossil fuels. I don't want to keep betting on the militarization of the country. I don't want to keep betting on a collapsed health system," she said.
"With me, there will be no going back on the rights won by both the LGBTQ community and women," Galvez vowed.
But she faces an uphill battle given the popularity of Morena.
In a survey published on August 28 by the Reforma newspaper, 46 percent of respondents said they would vote for Sheinbaum in a two-way contest, compared with 31 percent for Galvez.
© 2023 Latin Times. All rights reserved. Do not reproduce without permission.