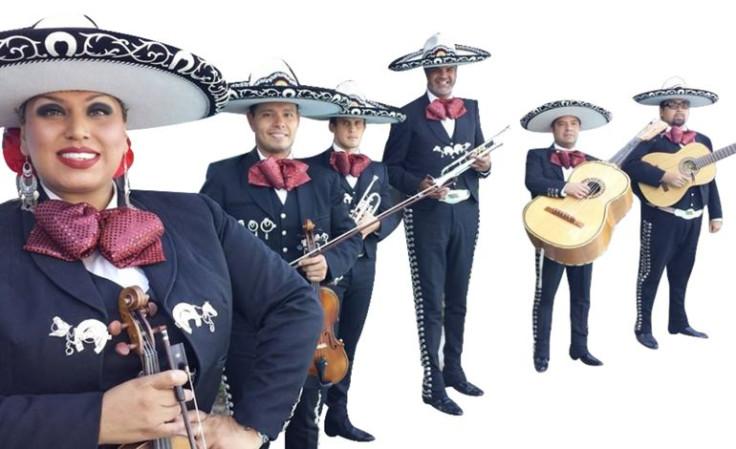 Carlos Samaniego, who always knew he wanted to be a mariachi and was lucky that El Sereno Middle School supported a mariachi band program as part of the music department, founded the city of LA's first mariachi band 'Mariachi Arcoiris de Los Angeles.' It was certainly not easy, as this particular music genre is well known for tough guys, hard-drinking and Don Juanes, and the band comprised by straight and openly gay men, and a transgender woman sure defy all the stereotypes of one of the oldest Mexican musical traditions.
Samaniego recalls he started on "the gutarrón" which, funny enough, is one of the most masculine instruments in a mariachi band; it is the instrument that keeps the beat for brighter sharper sounds such as the trumpet or the violins. "I had always wanted to be a singer, but the teacher told me I had to play an instrument to be part of the school mariachi. When he said he'd start me out on the guitarrón. I said 'Sure! 'But what's a guitarrón?'" said the founder of the band.
The band's only been together for nine months but Smaniego had been thinking about it since 2008, while he was putting an event together for a campus gay and lesbian organization, he considered the idea, but first "I had to figure out if I knew enough people," he laughs.
The band had a quick run at the Club Tempo, a Hollywood bar mostly for gay Latino cowboys, but had to cut it short due to a feud with the owner and since Samaniego was still in school they had to stop. They've also played on national TV but Smaniego says they are most moved when gay couples ask them to attend their marriages.
© 2023 Latin Times. All rights reserved. Do not reproduce without permission.