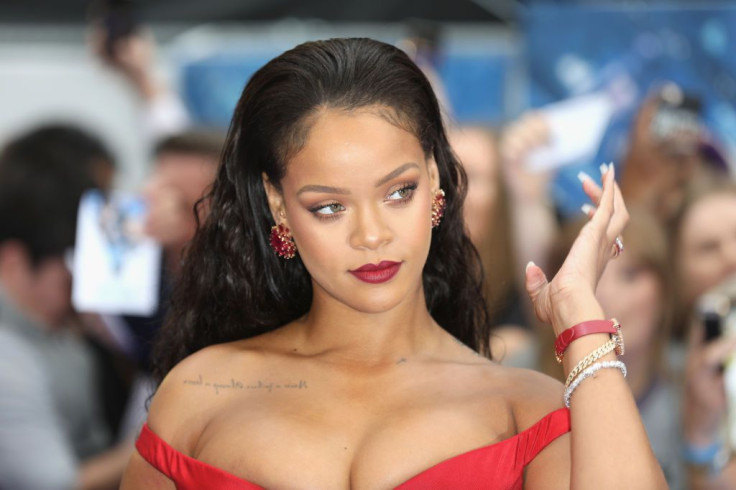 Rihanna put on a spectacular halftime show during the break in the pivotal showdown between Philadelphia Eagles and Kansas City Chiefs at the State Farm Stadium in Arizona.
During the 13-minute show, Rihanna performed her hits "Umbrella," "Diamonds," and various others while floating in the air on a platform. However, she skipped "Love the Way You Lie."
After giving birth to her first child in May of last year, the singer's appearance with a significant baby bulge caused a flurry of conjecture on social media over whether she was pregnant.
Rihanna floated on a platform in the air and even revealed she is carrying her second child, so she can be forgiven for not doing it entirely live.
It was her first public performance since taking a musical break in Jan. 2016 and her first appearance on stage since singing "Wild Thoughts" with DJ Khaled at the 2018 Grammy Awards.
In the past, several performers have opted to lip sync during the Super Bowl halftime performance to focus all of their energy on a highly choreographed dance.
Howard Stern claimed Rihanna lip-synced for about "85 percent" of her gravity-defying performance during the show.
"You know, I don't even know why she bothered showing up," he said during Monday's episode of "The Howard Stern Show" on Sirius XM. "I could be wrong, but I — in my opinion, 85 percent of that performance was lip sync."
Longtime co-host of Stern Robin Quivers stepped in to say she wasn't sure whether Rihanna was singing several times.
"Well, the big giveaway might be when she puts the microphone down by her knees and her lips aren't moving and the other voices are going," Stern said.
"I had a theory, Rihanna was not lip-syncing, but she put the microphone near her vagina so the new baby could sing," Stern said. "The baby was singing backup," reports New York Post.
However, Rihanna did receive a lot of positive feedback; many people thought it was one of the greatest Super Bowl halftime performances ever. Online admirers then congratulated her, with some saying she had made a "powerful statement" for women all around the world.
Former U.S. president Donald Trump who has feuded with Rihanna in the past, claimed it to be "without question, the single worst halftime show in Super Bowl history."
"Too bad Rihanna is lip-syncing," tweeted one viewer with footage of her cover of Kanye West's "All of the Lights," in which her lips and lyrics seem to sync about as well as a kung-fu movie dub.
The Red Hot Chili Peppers and Katy Perry are two other artists that are allegedly guilty of mouthing their songs during Super Bowl halftime shows, in addition to Rihanna.
Lip-syncing, however, isn't all that it's built up to be: The halftime artists' rehearsals are live-prerecorded by NFL regulations, allowing them to sing over it as much or as little as they desire as a musical safety net. Many vocalists choose the first option so they may focus all of their efforts on the sometimes-demanding choreographed routine.
© 2023 Latin Times. All rights reserved. Do not reproduce without permission.