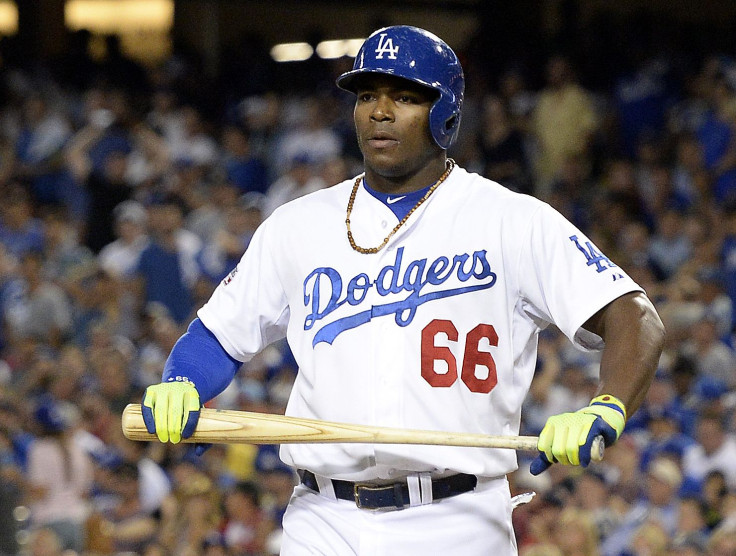 Hours before their biggest, and potentially last game of the MLB season, Los Angeles Dodgers Manager, Don Mattingly, decided to shake things up. Mattingly has benched his all-around best player in Yasiel Puig, in favor of aging left-hander, Andre Ethier. Game 4 of the NLDS starts at 5:07 EST, as the Dodgers start their Cy Young winner and potential NL MVP, Clayton Kershaw, to the mound on short rest after being knocked around by the Cardinals to the tune of eight runs, just three days ago.
If the Cardinals win, the Dodgers are eliminated from the MLB post season, and will ironically have their season come to an end on the same field it did a year ago. Puig has looked lost at the plate in the NLDS against the Cardinals, a team that also was able to dominate him last year during the NLCS as well. After being hit in the shoulder in Game 1 of the NLDS which ignited a benches clearing brawl, Mattingly was asked if Puig was perhaps injured.
"He's healthy. It's pretty simple. I just feel like this gives us the best chance to win today," said the Manager.
Mattingly is in a tough situation. He's damned if he does, and he's damned if he doesn't. Before recording a triple in the 6th inning last night and scoring the Dodgers only run in their 3-1 defeat, Puig had struck out seven consecutive times. Despite hitting the triple into the right field corner, Puig was down 0-2 on that at bat, and the pitch he did hit was well outside the zone. Had Puig struck out on that at bat, it would have been a MLB post season record 8th consecutive time. If the Dodger's lose today and don't advance out of the first round of the playoffs, and Puig was in the starting lineup and struggled again, Mattingly would most certainly be questioned on his decision making.
Mattingly instead opted to bench his Cuban star, and insert the aging Ethier, who had one of his worst seasons as a professional this year. Ethier had a .691 OPS, but has done well against right handed pitchers, a spot that Puig has struggled in so far in the series. Tonight's game 4 starter for St. Louis is Shelby Miller, another right hander who Mattingly is hoping Ethier can have more success against than Puig.
If the Dodgers do lose, and their season ends in St. Louis for the second consecutive year, than Mattingly will more than likely be chastised by the media for his decision to bench Puig. He shouldn't. You'd rather have a manager go down fighting, than stand there and make the same mistakes over and over. If there is a place to criticize Mattingly, it has been his bullpen decisions. In game one he was questioned for leaving Clayton Kershaw in too long (a move I supported), but when he did finally replace Kershaw, after the Dodgers had given up the lead 7-6. He brought in a young inexperienced reliever in Pedro Baez. Baez promptly walked a guy and then gave up a 3-run home run to Matt Holliday, putting the game out of reach.
Mattingly made the same mistake last night when he put in Scott Elbert to replace Hyung Jin-Ryu who had been dominate in the game. Elbert, had not pitched a meaningful game in two years, and had given up two runs by the time he had seen three batters. Needless to say the Dodgers lost the game, and maybe their season because of that decision. It was widely discussed that Mattingly should have inserted experienced and playoff tested relievers, Brian Wilson or Brandon League. We will never know the outcome had Mattingly done so, but you can't overlook experience in the post-season. Just look what the San Francisco Giants are doing.
The Giants, the team's 5th and final wild card team, is one win away from advancing to the NLCS, and their third World Series in 5 years. They aren't winning with big name stars, or an expensive roster. They are doing it with defense, strong relief pitching and experience, something the Dodgers are not relying on. After their 10-9 heart breaking defeat in game one of the series, the Dodgers have only scored four runs in their last two games, and are desperately in need of a spark tonight. Hopefully, Ethier can provide that for them.
© 2023 Latin Times. All rights reserved. Do not reproduce without permission.