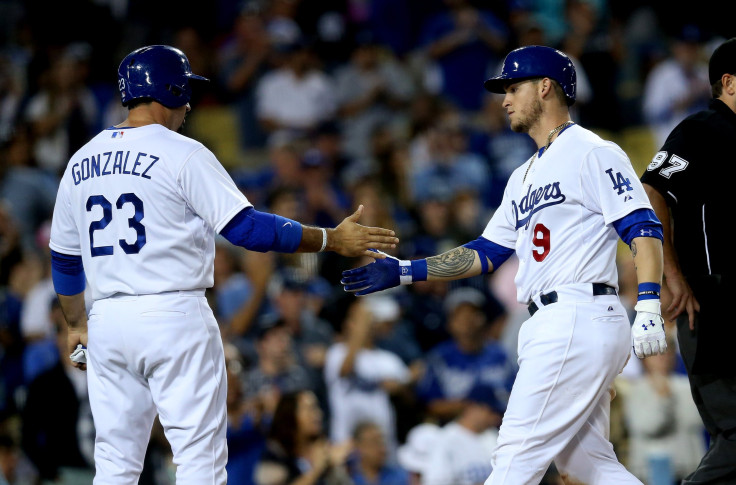 LOS ANGELES – Yasmani Grandal homered for the second straight game, but it was not enough to ruin the homecoming party thrown for Chad Billingsley who triumphantly returned to Dodger Stadium on Tuesday and beat his former team 7-2.
A night earlier, it was Dodgers' shortstop Jimmy Rollins who made beat his former team with a game-winning two-run single in the seventh inning. But on Tuesday, it was Billingsley's turn to have the last laugh.
The former first-rounder allowed just two runs on six hits, in six innings, earning his first win since April 10, 2013 when he last wore a Dodgers uniform. Billingsley played eight seasons in Los Angeles from 2006 to 2013.
The right-hander from Defiance, Ohio defied the odds overcoming Tommy John Surgery and a torn-flexor tendon thereafter, which forced Billingsley to miss the better part of three seasons.
"It's been a long road and I was pretty excited to be back out there in a familiar atmosphere," Billingsley said. "I had a lot of emotion. Pitching at Dodger Stadium was pretty familiar, and I couldn't have asked for a better first win."
Brett Anderson got the loss, snapping a three-game winning streak for the left-hander. Anderson lasted five innings, surrendering a season-high four runs (three earned), with six hits and five strikeouts.
"I beat myself tonight," Anderson said. "I had no business throwing Jeff Francoeur a strike with two strikes right there. I came out a little lethargic, but give credit to Billingsley, he pitched well against his former team."
Francoeur provided the offense for Philadelphia as the left fielder went 2-for-5 with a double, home run, and three RBIs. Francoeur has three homers and 12 RBIs in 13 games against NL West opponents this season.
"I was lucky enough to get some extra base hits," Francoeur said. "To me, that's how you got to score runs and win ballgames, and luckily we were able to do that."
The only runs of the game for the Dodgers came off the bat of newly named All-Star catcher Yasmani Grandal. The Cuban switch-hitter received the news that he had been selected to play in first All-Star Game a night earlier.
"It's great being able to represent the Dodgers in the All-Star game," Grandal said of the honor. "Making the All-Star team was one of my career goals and I'm able to do that now, so I'm very excited."
Grandal is tied with San Francisco Giants catcher Buster Posey for the most home runs in the majors by a catcher with 14. All of Grandal's homers this year have come from the left hand side of the plate, and on Tuesday he capitalized off Billingsley's one mistake in the sixth inning.
"He threw me a change up that stayed over the plate, I didn't think the ball was gonna go out because I hit it to the deepest part of the park," Grandal said of the home run. "Shockingly, the ball was able to go over the fence."
© 2023 Latin Times. All rights reserved. Do not reproduce without permission.