Mexico is one of the most popular tourist destinations in the world. Most probably, this is because the country is filled with many nice attractions, spectacular tourist spots and of course, delicious food.
The country offers many savory and flavorful food that will surely suit the palate of people from any parts of the world. According to Savored Journeys, most of these popular Mexican foods are sold in the street market or street vendors while some are only sold in specific restaurants, nevertheless, they are not hard to find. To know which one to try once in Mexico, here's a round-up of 10 dishes that you should not miss while there.
Pambazo (Mexican Sandwich Dipped in Salsa)
Mexicans call the white bread Pambazo and this is also what the name of a sandwich that is dipped in a red guajillo chile sauce. Usually, the bread is filled with shredded pork or beef, fried beans, fried potatoes and finally topping it with lettuce and cheese.
Chilaquiles
Typically, this is a Mexican breakfast dish but also popular as a snack or even light dinner. It is made with slightly fried corn tortillas topped with green or red salsa. Pulled chicken, fried eggs, cheese and cream are added on the top. This is best served with frijoles or refried beans.
Nopalitos
This food is made up of diced nopales that are taken from the nopal cactus. This can also be made into a salad by mixing it with avocado, cilantro and tomatoes. For breakfast, it can simply be served with eggs.
Tostadas
This dish is a fried corn tortilla so they are crunchy. This is eaten by itself or served with various toppings depending on the person's palate. Some of the popular toppings for tostadas are meat, frijoles, ceviche, cheese and seafood bits.
Elote
This is the Mexican corn on the cob. Tourists can easily find them in the streets of Mexico. The corn is sold covered in the choice of sour cream, cheese, chili powder, salt and butter, and mayonnaise.
Tacos al pastor
This is a type of tacos and the most popular one in Mexico. Thin strips of pork are placed on the corn tortilla and served with pineapple, coriander leaves and onions.
Flautas
This dish is also called taquitos. It is a rolled, fried tortillas filled with meat and cheese. Flautas usually come with various salsas, guacamole, sour cream and lettuce.
Pozole
This can be bought in three versions - vegetarian, chicken and pork. This dish is made from hominy corn and stewed for hours or overnight. Various spices and herbs are added to achieve a flavorful serving. It is served with onion, lettuce, lime, radish and chili sprinkled on top.
Tamales
Mexicans usually serve this on holidays but tourists can't miss this traditional food so they are also being sold on the streets or restaurants. To make Tamales, a "masa" or dough is filled with meats, vegetables and cheese then wrapped individually in a corn husk. When all wrapped up, they are steamed to cook.
Enchiladas
Enchiladas is probably another most common Mexican food. This is a tortilla stuffed with meat, seafood, vegetables, beans and cheese. It is served covered in chili sauce.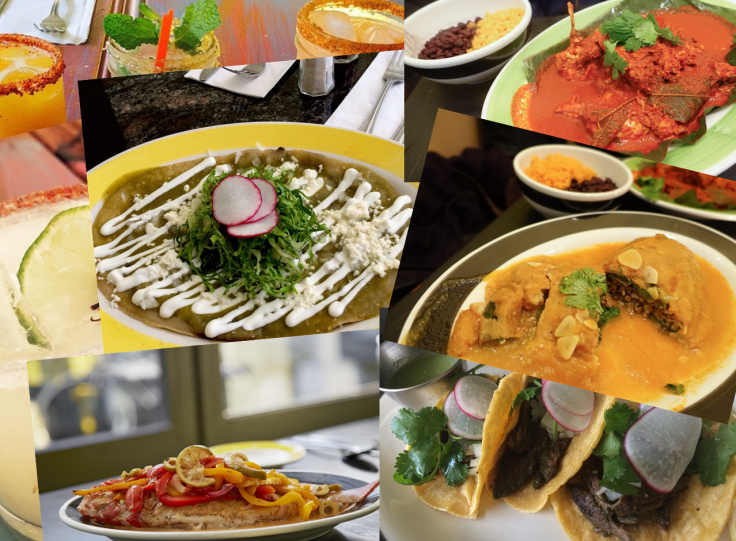 © 2023 Latin Times. All rights reserved. Do not reproduce without permission.