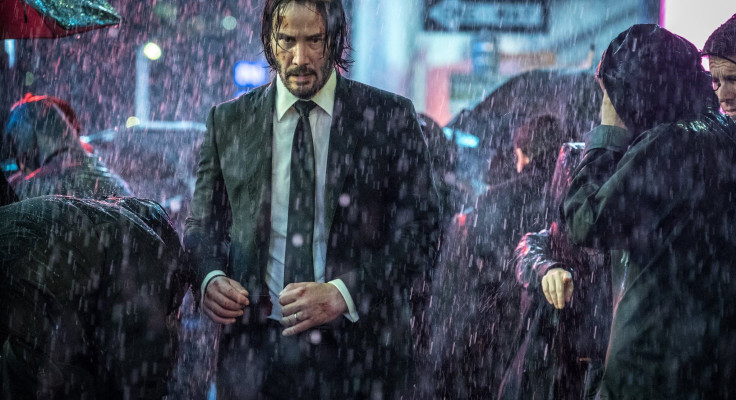 From superheroes to blockbusters to spin-offs, there are so many highly anticipated projects coming next year, so we've rounded up 10 of the most exciting live-action movies we can't wait to see.
The year 2023 boasts an array of superhero flicks, plenty of action titles, historical dramas, and even a return to beloved old franchises. Movie fans are excited to once again see multiple high-profile films in theaters. From Disney's "The Little Mermaid" to Michael B. Jordan's feature directorial debut "Creed 3", moviegoers have a wad of exciting films to watch next year. Comic fans have been eagerly waiting for Guardians of the Galaxy Vol. 3, the last installment of the franchise releasing next Spring, as well as for the D.C. sequel to Shazam opening in March. So mark your calendars, get your tickets and check out the most promising films of the upcoming year. Here are our 10 picks for the most anticipated live-action movies for 2023 in order of release.
1. Ant-Man and The Wasp: Quantumania: Opening on: February 17, 2023
Directed by: Peyton Reed
Starring: Paul Rudd, Evangeline Lilly, Michael Douglas, Michelle Pfeiffer, Jonathan Majors, Kathryn Newton, Bill Murray
This February, enter the Quantum Realm. From Marvel Studios comes round three of the fan-favorite adventure series, which promises some exciting new introductions namely, Jonathan Majors returning as supervillain Kang the Conqueror and Bill Murray as Krylar. Ant-Man (Scott Lang) and the Wasp (Hope Van Dyne) along with Hank Pym and Janet Van Dyne find themselves exploring the Quantum Realm, interacting with strange new creatures and embarking on an adventure that pushes them beyond the limits of what they thought was possible.
2. Creed III: Opening on: March 3, 2023
Directed by: Michael B. Jordan
Starring: Michael B. Jordan, Tessa Thompson, Jonathan Majors, Phylicia Rashad
The upcoming sports drama marks Michael B. Jordan's feature directorial debut and is the third installment of the Rocky spin-off Creed franchise. The movie comes from a screenplay by Keenan Coogler and Zach Baylin from a story they co-wrote with Ryan Coogler (Black Panther). The sequel to Creed II (2018) is actually the ninth installment in the Rocky franchise and is the first film in the franchise without Sylvester Stallone as Rocky Balboa, although he still serves as a producer for his Balboa Productions banner. The film stars Jordan in his return as Adonis "Donnie" Creed, the son of Rocky's nemesis-turned-friend Apollo Creed. Jonathan Majors appears to be Adonis' opponent in the ring, while Tessa Thompson and Phylicia Rashad are set to reprise their roles as Adonis' girlfriend and mother, respectively.
3. Shazam Fury of the Gods Opening on: March 17, 2023
Directed by: David F. Sandberg
Starring: Zachary Levi, Helen Mirren, Lucy Liu, Jack Dylan Grazer, Asher Angel Rachel Zegler, Adam Brody, Megan Good
From New Line Cinema comes the exciting sequel "Shazam! Fury of the Gods," which continues the story of teenage Billy Batson who, upon reciting the magic word "SHAZAM!," is transformed into his adult Super Hero alter ego — Shazam. "Shazam! Fury of the Gods" stars Zachary Levi returning as Shazam as he and his super crew take on the villainous Hespera (Helen Mirren) and Kalypso (Lucy Liu), daughters of the Greek titan Atlas. The film also stars returning cast members Asher Angel as Billy Batson; Jack Dylan Grazer as Freddy Freeman; and his Super stepsiblings in their Super form — Adam Brody, Ross Butler, Meagan Good, and D.J. Cotrona as the kids have to learn to work together to defeat the new villains.
4. John Wick Chapter 4: Opening on: March 24, 2023
Directed by: Chad Stahelski
Starring: Keanu Reeves, Laurence Fishburne, Lance Reddick, Ian McShane, Donnie Yen, Bill Skarsgård, Hiroyuki Sanada
The blockbuster action franchise directed by Chad Stahelski and starring Keanu Reeves is finally reaching theaters in 2023, after being delayed due to the COVID-19 pandemic. The sequel to John Wick: Chapter 3 – Parabellum (2019), is the fourth installment in the John Wick film series. John Wick (Reeves), the professional hitman and assassin with a legendary reputation is back and is being hunted by the High Table. With the price on his head continuously increasing, Wick takes his fight against the High Table global as he seeks out the most powerful players in the underworld, from New York to Paris to Japan to Berlin. Wick must not only face off against a new enemy with powerful alliances globally but deal with forces that turn old friends into foes.
The movie features a very exciting and extensive cast with Donnie Yen as Caine, a blind High Table assassin and friend of John Wick; Bill Skarsgård as The Marquis de Gramont, a member of the High Table whose position is challenged by John Wick; Laurence Fishburne returning as The Bowery King; Ian McShane as Winston Scott, the manager of the New York Continental Hotel who once betrayed Wick; Hiroyuki Sanada as Shimazu; and Lance Reddick is back as Charon, the coolest concierge keeping order at the Continental Hotel. Rumor has it that Chapter 4 will not be a happy ending for its central character.
5. Dungeons & Dragons: Honor Among Thieves: Opening on: March 31, 2023
Directed by: John Francis Daley, Jonathan Goldstein
Starring: Chris Pine, Hugh Grant, Regé-Jean Page, Michelle Rodriguez, Sophia Lillis, Justice Smith
The adventure/fantasy based off Hasbro's popular role-playing game Dungeons & Dragons brings the rich world and playful spirit of the legendary tabletop game to the big screen in a comedic and action-packed adventure. Dungeons & Dragons: Honor Among Thieves is directed by Jonathan Goldstein and John Francis Daley, who co-wrote the screenplay with Michael Gilio. The film is set in the Forgotten Realms campaign setting; A charming thief and a band of unlikely adventurers undertake an epic heist to retrieve a lost relic, but things go dangerously awry when they run afoul of the wrong people. The reboot has no connections to the film trilogy released between 2000 and 2012. The film's all-star cast includes Chris Pine, Michelle Rodriguez, Justice Smith, Sophia Lillis, Hugh Grant, and breakout star Regé-Jean Page.
6. Guardians of the Galaxy Vol. 3: Opening in: May 5, 2023
Directed by: James Gunn
Starring: Chris Pratt, Zoe Saldana, Bradley Cooper, Dave Bautista, Karen Gillan, Pom Klmentieff, Will Poulter, Elizabeth Debicki
Our favorite team of misfits return for what looks to be an emotional ending to the franchise. ​​The protectors of the cosmos are back for one last mission in Guardians of the Galaxy Vol. 3 from visionary director James Gunn. Still reeling from the loss of Gamora, Peter Quill, aka the legendary Star-Lord, rallies his team to defend the universe and one of their own — a mission that could mean the end of the Guardians if not successful. The movie will explore Rocket Raccoon's (Bradley Cooper) origins, introduce viewers to the super-being Adam Warlock, and bring the return of Zoe Saldaña's Gamora. Viewers got their first look at Will Poulter as the all-powerful artificial being Adam Warlock in the latest trailer. Warlock was first teased at the end of Vol. 2.
7. The Little Mermaid: Opening on: May 26, 2023
Directed by: Rob Marshall
Starring: Halle Bailey, Jonah Hauer-King, Melissa McCarthy, Javier Bardem, Daveed Diggs, Awkwafina
The live-action adaptation of the beautiful spirited mermaid with a longing for adventure and a life beyond the sea hits theaters late spring of 2023. The first glimpses of the film revealed in the trailer showcased a stunning Halle Bailey as Ariel, impeccably cast with her incredible voice enchanting us from the depths of the ocean. Adapted from The Little Mermaid and the classic Hans Christian Andersen's The Little Mermaid, the movie focuses on the youngest of King Triton's daughters, Ariel, and her thirst for adventure. Longing to find out more about the world beyond the sea, Ariel visits the surface and falls for the dashing Prince Eric played by Jonah Hauer-King. Following her heart, she makes a deal with the evil sea witch, Ursula (Melissa McCarthy) to experience life on land. The film also stars Awkwafina as Scuttle, and Javier Bardem as King Triton, with new tunes co-written by Lin-Manuel Miranda.
8. Indiana Jones and the Dial of Destiny: Opening on: June 30, 2023
Directed by: James Mangold
Starring: Harrison Ford, John Rhys-Davies, Antonio Banderas, Mads Mikkelsen, Phoebe Waller-Bridge, Shaunette Renée Wilson, Toby Jones, Boyd Holbrook
Disney just recently revealed the first trailer for "Indiana Jones and the Dial of Destiny," which is the official title for the fifth installment of Harrison Ford's action/adventure franchise. Harrison Ford returns as the legendary archaeologist in the highly anticipated "Indiana Jones 5" as the last hurrah for the 80-year-old icon. For the first time ever, Steven Spielberg is not leading an Indiana Jones film. James Mangold ("Ford vs. Ferrari," "Logan") will be directing the sequel and co-wrote the script with Jez Butterworth and John-Henry Butterworth. However, Steven Spielberg and George Lucas will serve as executive producers.
The long-awaited follow-up to 2008's Kingdom of the Crystal Skull features a surprising return with John Rhys-Davies, co-starring alongside Ford. Davies is reprising the role of Sallah, the "best digger in Egypt," last seen in 1989's "Indiana Jones and the Last Crusade." Some other new additions include Mads Mikkelsen, Antonio Banderas, Thomas Kretschmann, Boyd Holbrook, Shaunette Renée Wilson, Toby Jones, and Phoebe Waller-Bridge as Indy's goddaughter Helena.
9. Mission: Impossible - Dead Reckoning, Part One: Opening on: July 14, 2023
Directed by: Christopher McQuarrie
Starring: Tom Cruise, Rebecca Ferguson, Simon Pegg, Ving Rhames, Vanessa Kirby, Henry Czerny, Hayley Atwell, Pom Klementieff, Shea Whigham, Esai Morales
Mission: Impossible, one of the most popular action franchises of all time is back. Mission: Impossible – Dead Reckoning Part One is an upcoming action spy film written, produced and directed by Christopher McQuarrie. Mission Impossible – Dead Reckoning Part One is the seventh installment in the Mission: Impossible film series and due to COVID, we're now getting M:I 7 in 2023 and M:I 8 in 2024. Tom Cruise will have played Ethan Hunt for a long-lasting 27 years. This installment brings back familiar faces like Simon Pegg, Ving Rhames, Rebecca Ferguson, Henry Czerny, and Vanessa Kirby, with Esai Morales playing the primary villain.
10. Oppenheimer: Opening on: July 21, 2023
Directed by: Christopher Nolan
Starring: Cillian Murphy, Florence Pugh, Emily Blunt, Matt Damon, Robert Downey Jr., Rami Malek, Josh Hartnett, Benny Safdie
From acclaimed writer-director Christopher Nolan comes "Oppenheimer," the buzzed-about biopic about the conception of the atom bomb. The film stars Cillian Murphy as the "father of the atomic bomb," physicist J Robert Oppenheimer, who works with a team of scientists during the Manhattan Project, leading to the development of the explosive weapon. The film also stars Emily Blunt and Matt Damon. Essentially like all of Nolan's films, the IMAX-shot film should be watched on the biggest screen possible. The YouTube trailer is cleverly counting down the seconds to release date.
© 2023 Latin Times. All rights reserved. Do not reproduce without permission.