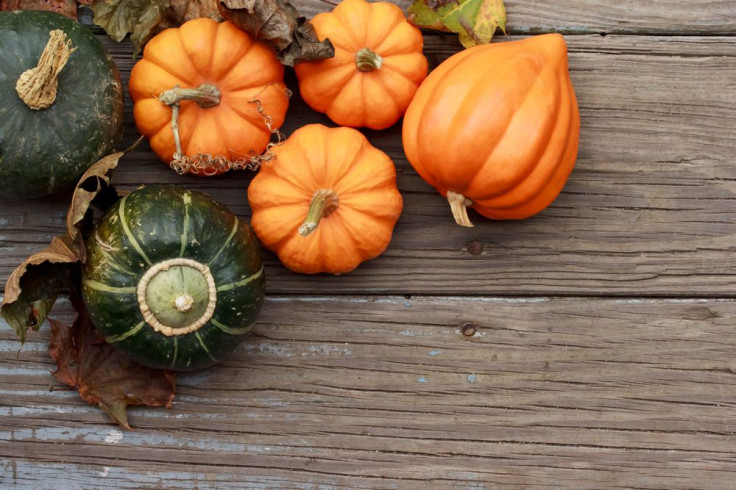 Pumpkins have numerous health benefits, according to the Mayo Clinic, pumpkins are full of antioxidants and they have an amazing source of vitamin A, an anti-aging nutrient that jump-starts your skin's cell renewal process and increases the production of collagen for smooth, youthful-looking skin. For this season think outside of the box and try one of these delicious pumpkin recipes.
Ey Shugah Roasted Butternut Squash with Pumpkin Seed Granola by Cesar Zapata from "The Federal"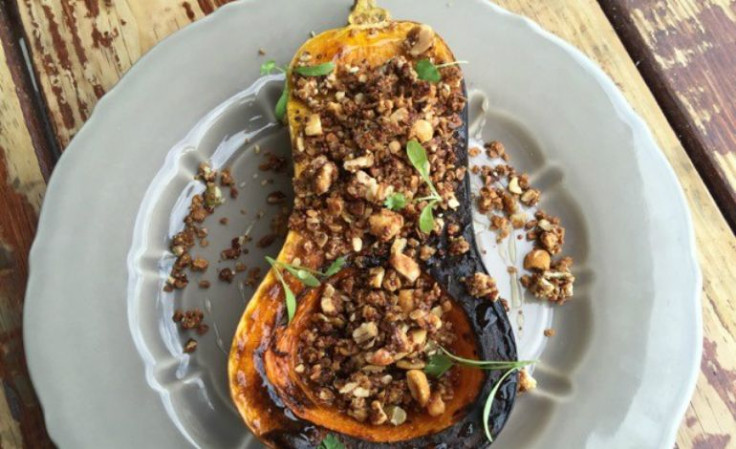 Butternut Squash
2 each whole butternut squash, peeled and cut in half
4 each cloves
1cup butter, cubed
1/2 cup hey shugah
4 each sage leaves
Salt and pepper to taste
Granola
3 cups old-fashioned rolled oats
1 cup sweetened flaked coconut
1/4 cup vegetable oil (canola)
1/3 cup sliced almonds (1 oz)
1/2 cup chopped walnuts (pecans)
1/3 cup pumpkin seeds (1 1/2 oz; not roasted)
1/3 cup packed dark brown sugar
1/2 cup hey shugah
Pinch cinnamon
Pinch salt (Maldon sea salt)
1 cup dried cherries
1/2 cup dried cranberries
1/2 cup diced dried apricots (1/4 inch dice)
1/3 cup golden raisins
– or –
2 3/4 cups mixed dried fruit
Preparation For Butternut Squash
Create a pouch with aluminum foil for each squash and place halved butternut squash in the middle. Add to each halved a sage leaf, couple of cubes of butter, 1 clove, 1 ounce hey shugah and salt and pepper. Make sure to completely sealed the pouch so no air escapes. Place in a preheated oven and roast at 350 until squash is tender in the middle - approximately 30 - 40 minutes.
Remove from oven and aluminum foil pouch; place on a plate, garnish with pumpkin seed granola and spiced suggah.
Preparation For Granola
Preheat oven to 300°F. Stir together all ingredients except the fruit in a large bowl until combined. Spread mixture evenly on a large shallow baking pan lined with parchment paper and bake, stirring occasionally, until golden brown, 20 to 25 minutes, but checking every five minutes after the 5-minute mark.
Transfer granola, in pan, to rack to cool stirring occasionally. Stir in dried fruit.
Pumpkin In Piloncillo Syrup by Pati Jinich from Pati's Mexican Table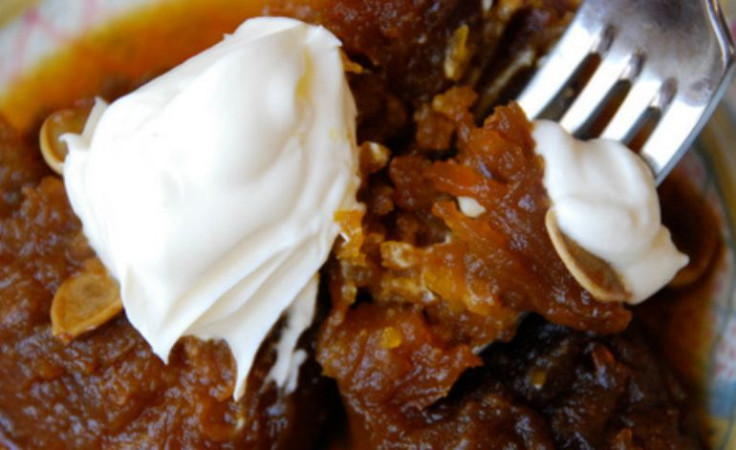 Serves: 12 to 15
Ingredients:
1 medium pumpkin, about 8 to 10 pounds
2 cups water
3 pounds piloncillo, or about 6 cups packed brown sugar
2 cinnamon sticks
Rind of an orange
Juice of an orange, or about 1/3 cup orange juice
Preparation: Place the piloncillo (or brown sugar) into a large, heavy pot. Pour the water on top. Incorporate the cinnamon, orange juice, and orange rind. Place over medium heat and let it come to a simmer, stirring occasionally until the piloncillo has fully dissolved, making a loose syrup. It will take anywhere from 10 to 15 minutes.
While the piloncillo is dissolving, rinse the pumpkin clean of any dirt. Cut the pumpkin into large chunks of about 3"x3". Some cooks remove the strings and seeds, some don't, I leave them on. Using a knife, score the skin of the pumpkin chunks, to help the pumpkin absorb the syrup.
Once the piloncillo is dissolved into the water, remove the pot from the heat and begin adding the pumpkin pieces. Arrange the pieces of the pumpkin in the pot, with the first layer skin side down and the second layer skin side up.
Cover the pot and place it over medium to medium-low heat, for about one and a half hours. Uncover and continue cooking the pumpkin until the it has turned into a rich brown color and has become well soaked in syrup, for about another half hour. Turn off the heat and let the pumpkin cool and finish absorbing all the syrup it can as the rest of the syrup thickens. You may it it warm or let it cool and refrigerate. It will keep in the refrigerator, covered, for months.
Pumpkin Flan with a Chocolate Crust by Pati Jinich from Pati's Mexican Table
Serves: 10 individual flans
Ingredients:
1 cup granulated sugar
3/4 cup half-and-half
1/2 cup or 4 ounces cream cheese
1 can (14 ounces) sweetened condensed milk
5 large eggs
1 cup pumpkin puree
1/4 cup dark brown sugar
1/2 teaspoon ground cinnamon or canela
1/4 teaspoon ground nutmeg
1/4 teaspoon ground allspice
Pinch kosher or coarse sea salt
1 1/2 cups coarsely crushed chocolate graham crackers
Preparation: In a medium saucepan, set over medium-low heat, heat sugar, stirring occasionally with a wooden spoon, for about 6 to 8 minutes, or until fully dissolved and caramel colored. Quickly pour caramel into the bottoms of 10 individual ramekins, swirling around to coat the bottom of each one. Work swiftly as caramel hardens fast. Preheat oven to 350° F.
In the jar of a blender, combine half-and-half, cream cheese, sweetened condensed milk, eggs, pumpkin puree, brown sugar, cinnamon, nutmeg, allspice, and salt and puree until smooth. Pour pureed mixture into prepared ramekins, filling to 1/4-inch below the rim. Top each ramekin with 2 generous tablespoons of crushed crackers, don't press them down. Place flans in a large baking dish or roasting pan; fill pan with hot water halfway up the height of the ramekins.
Cover the pan lightly with aluminum foil. Carefully place into the oven and bake for 50 minutes, flans should look completely set. Remove from the oven, remove the aluminum foil and remove each ramekin from the water bath. Let the flans cool completely before covering with plastic wrap and placing in the refrigerator. Refrigerate at least 2 hours before serving.
When ready to eat, run a small knife around the edge of each flan all the way to the bottom. Invert dessert plate over ramekin, flip over and shake slightly to release. Leave the ramekin on top of the flan for a minute or so, so all the caramel sauce can run over the flan.
© 2023 Latin Times. All rights reserved. Do not reproduce without permission.