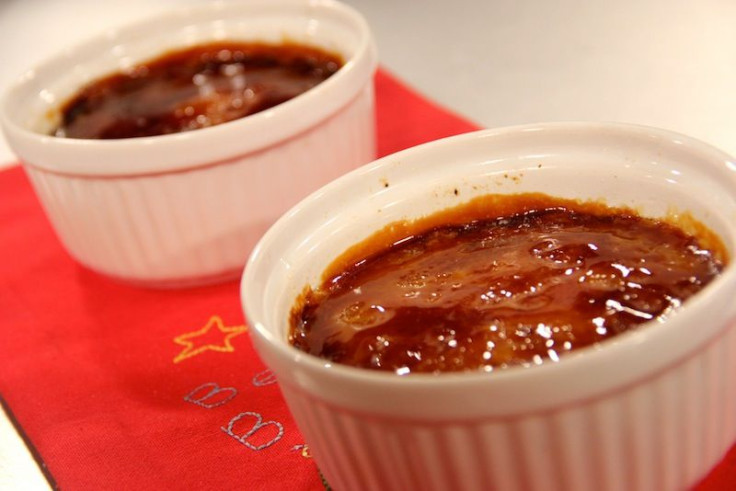 Crème Brûlée is considered to be one of the most decadent French desserts around. Traditionally served at room temperature, the dessert was first published in 1691 in the cookbook of François Massialot. This Pumpkin Crème Brûlée by Chef James Tahhan adds a unique twist to the French dessert by adding pumpkin puree.
Ingredients
1 cup pumpkin puree
2 cups heavy cream
7 egg yolks
1/2 cup brown sugar
1/4 teaspoon cinnamon
1/4 teaspoon nutmeg
White sugar for dusting and flaming
Directions
Preheat oven to 375 degrees.
In a sauce pot to put the cream with the sugar and brought to a boil. Then in a separate container beat the egg whites until you get a slightly creamy yolks, followed add half the hot cream to the bowl with the eggs and mix well, then took the entire mixture to the saucepan and cook until it begins to make a creamy texture. At this point add the pumpkin puree and spices stirring constantly. We then place baking molds on a banner with about 2 cups of water in the phone doing the same kind of double boiler. We put the mixture in the containers, passing it through a sieve and bake for 1 hour. Finally put sugar on top and caramelize with a torch the surface.
Other Recipes:
Roasted Cauliflower Soup Recipe
Rigatoni With Sausage And Red Sauce
Salmon With Honey Mustard Glaze And Watercress
Virgin Mango Margarita Recipe With Mint And Blackberries
Chicken Tingas
Vegan Chocolate Mousse Recipe
Pasta In Sage And Butter Sauce
Churro With Chocolate Sauce
Crepes With Mascarpone, Chocolate Ganache And Walnuts
Cheddar Cheese And Rosemary Biscuits
Decadent Chocolate And Banana Chimichanga
Fried Calamari With Salsa
© 2023 Latin Times. All rights reserved. Do not reproduce without permission.