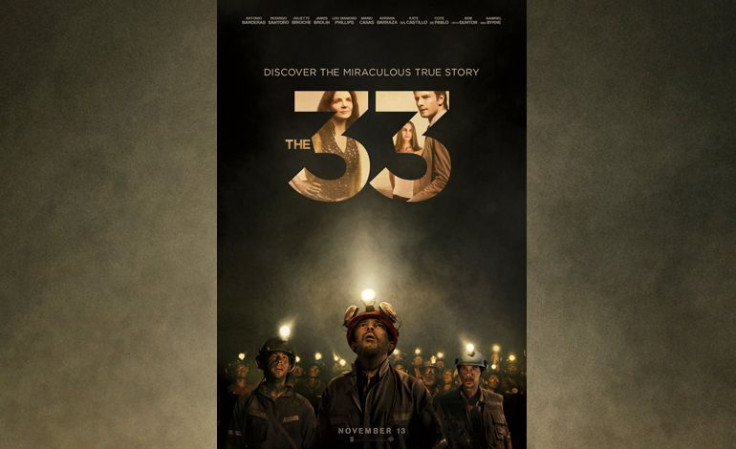 Back in 2010 the whole world was paralyzed as we all watched in amazement the rescue of 33 Chilean miners who had been buried alive by the catastrophic collapse of a 100-year-old gold and copper mine. The men spent 69 days trapped, as an international team worked night and day in a desperate attempt to get everyone out alive, as friends and family, as well as millions of people globally waited and watched anxiously for any sign of hope.
It wasn't a surprise that five years later this event was made into a movie, depicting the courage of both the miners and their families who refused to give up, and never-before-seen actual events that unfolded above and below ground. A story of resilience, personal transformation and triumph of the human spirit, "The 33" takes us to the Earth's darkest depths, revealing the psyches of the men trapped in the mine and what they had to overcome in order to survive.
Mexican Patricia Riggen directed the film, which has an international cast led by Antonio Banderas, Rodrigo Santoro, Juliette Binoche, James Brolin, Lou Diamond Phillips, Adriana Barraza, Kate del Castillo, Cote de Pablo and more. We sat down with Riggen, Banderas and Santoro to talk about the experience of making this film and why it's such a great movie that will change everyone's lives.
The director told us that not only this is a movie about Latinos, it's a movie directed by a Mexican woman with a cast that it's Latin in its majority. These types of movies don't get picked up too often, and it started as an independent film, but it got the attention of a big studio, Warner Bros. With their help, this movie, the first one of its kind, will have a wide release and hits theaters today, Nov. 13. Riggen also talked about directing so many Latin men and her experience in the mines. Listen to it below:
We also spoke with Rodrigo Santoro, who plays Laurence Golborne, Chile's Minister of Mining. He had been on the job for four months when the disaster struck and becomes the liaison between the families of the miners, the engineers and the president, and also the public face of the rescue attempts. He's getting pressure from every angle, and as he starts to get closer to the families, he understands what they're going through and that influences his actions. Santoro revealed that he was very proud about being slapped by Juliette Binoche, who plays Maria, the sister of one of the trapped miners. Listen to what he told us:
And last but not least, we also spent some time with Antonio Banderas, who plays Mario Sepúlveda, who after the mine collapse, emerges as a natural born organizer and leader, who is literally given the key to the miners' survival: the food locker. He brings order in the mine and tries to stretch the minimum resources to the max. He tries to keep up the hope, but he's also a human. This is how Banderas approached the character:
Don't miss the amazing story of "The 33" in theaters Nov. 13.
© 2023 Latin Times. All rights reserved. Do not reproduce without permission.