Are you looking for hair-raising recipes? You are in the right place! There is no better way to celebrate the spooky season than using fresh avocados, and our friends from Aguacates Frescos - Saborea Uno Hoy, a science-based program designed to build awareness of the many health benefits of eating fresh avocados, shared with Latin Times Halloween-themed recipes that are sure to delight all ghouls and goblins.
These delicious and spine-chilling recipes are made with healthy fresh avocados, a kid-friendly fruit, packed with excellent taste, fun texture, and nutrients.
4 Spooktacular Recipes To Enjoy Halloween From The Comfort Of Your Home
Haunted Graveyard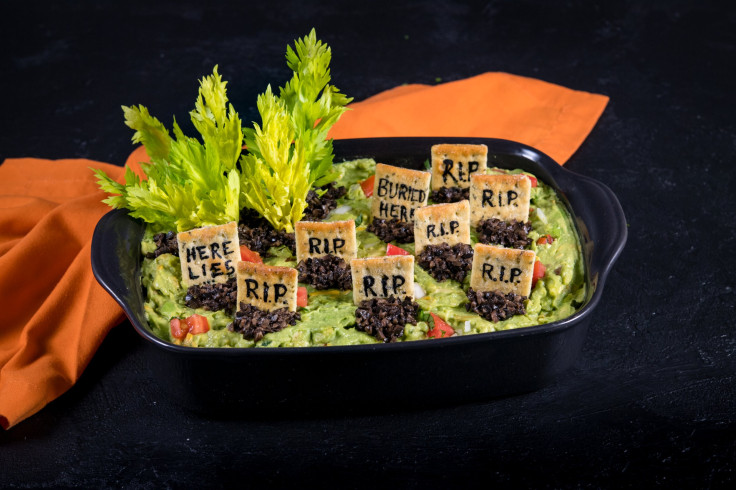 Terrifyingly easy, turn the Official Hass Avocado Board Guacamole into a haunted graveyard using crackers or fried corn tortillas! Guacamole makes a great base for a textured grass-green landscape, and the cracker/tortilla tombstones turn this recipe into a fun and spooky graveyard scene! Get creative with your shapes, and feel free to add anything you'd like to spice up your graveyard!
Ingredients:
Four ripe, fresh avocados, halved, pitted, and peeled
1 Tbsp. fresh lemon juice
1/2 small sweet white onion, minced
One ripe Roma tomato, seeded and diced
Two serrano peppers, seeded if desired
diced cilantro, chopped, optional
salt and pepper, to taste
Instructions:
1. Gently mash all but one of the avocados with lemon juice in a bowl, leaving some chunks. 2. Gently stir in remaining ingredients.
3. Dice remaining avocado. Fold into the guacamole and serve immediately.
Avocado Parfait with Vegan Dulce de Leche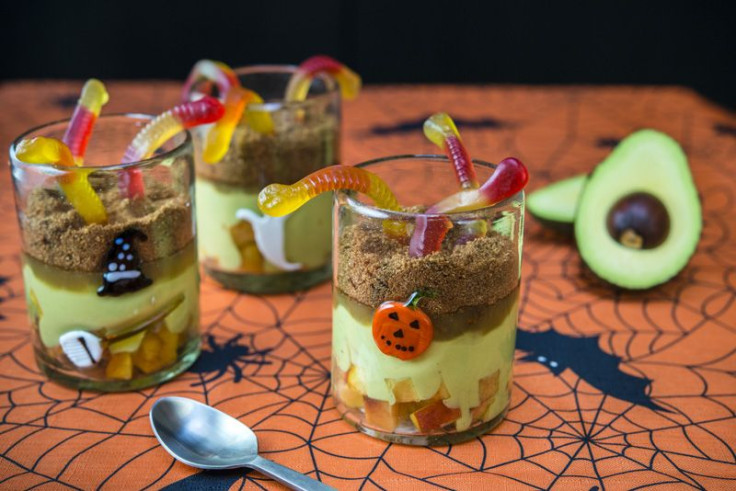 The creepy-crawly Avocado Parfait with Vegan Dulce de Leche with gummy worms makes a frightening treat!
Ingredients:
1 cup graham cracker crumbs (about eight full crackers)
2 Tbsp. extra virgin olive oil
Two ripe peaches, halved, seeded, and diced (or any other cut-up fruit)
One ripe, fresh avocado, halved, pitted, and peeled
1 (13.66 oz.) can coconut milk, cold, divided
1 Tbsp. maple syrup
1/2 tsp. vanilla extract
3 Tbsp. brown sugar
a pinch of salt
Instructions:
Preheat oven to 350 degrees F.
Place a can of coconut milk in the freezer to get it colder.
Place graham crackers in between ceramic wrap paper and break cookies into crumbs with a rolling pin. In a bowl, combine olive oil and graham crackers. Press into 9-inch pie pan and bake at 375 degrees for 10 minutes. Cool.
Slice peaches to preferred size.
Remove lite coconut milk from Freezer. Place 1 cup and one tablespoon coconut milk and maple syrup in a blender. Blend until slightly foamy. Add vanilla extract and blend. Add avocado and mix just until well combined. Makes about 2 cups.
Place remaining lite coconut milk, brown sugar, and a pinch of salt in a saucepan. Cook over medium heat until brought to a boil about 8-10 minutes. Stir frequently until thickened. Makes about 1/2 cup. Set aside.
Building the parfait: layer two tablespoons of graham crackers on the bottom, one tablespoon of dulce de leche, and 1/3 cup of whipped coconut avocado mixture. Top with additional two tablespoons of the peaches. Refrigerate till serving!
Avocado Halloween Pumpkin Balls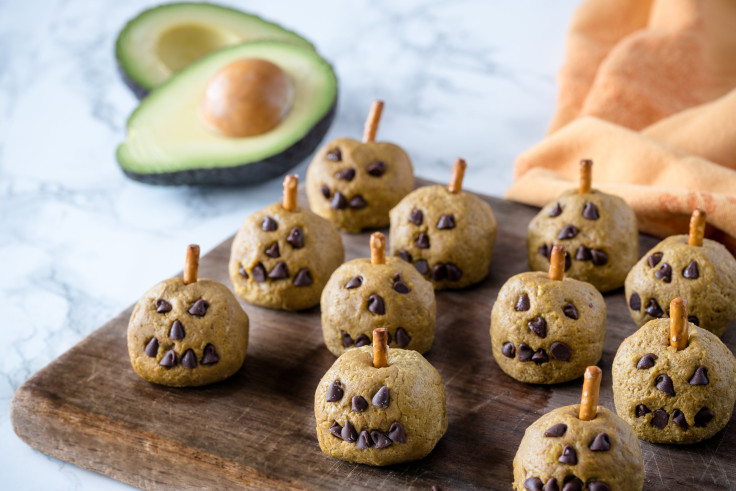 For a scary-good time, try the bite-sized Avocado Halloween Pumpkin Balls.
Ingredients:
1 cup raw rolled oats
One ripe, fresh avocado halved, pitted, peeled
1/4 cup 100% pumpkin puree
1/4 cup peanut butter
1 1/2 tsp. ground cinnamon
One pinch of salt
2 Tbsp. mini chocolate chips (optional)
Instructions:
In a food processor, process the oats until coarse flour.
Add avocado, and pumpkin puree, process until blended.
Scrape sides with a spatula and add peanut butter, cinnamon, and salt, and process until all is well blended. The mixture will be soft and sticky.
Place in a container in the freezer for 30 minutes. This is to allow time for flavors to incorporate.
Remove from the freezer and roll into 12 bite-sized balls using your palms. Place on a tray lined with parchment paper and place it back in the freezer for another 15 minutes. This will help hold their shape.
Remove from the freezer and decorate with mini chocolate morsels and pretzel sticks. Serve within an hour or store in the fridge for up to three days.
Day of the Dead Hummus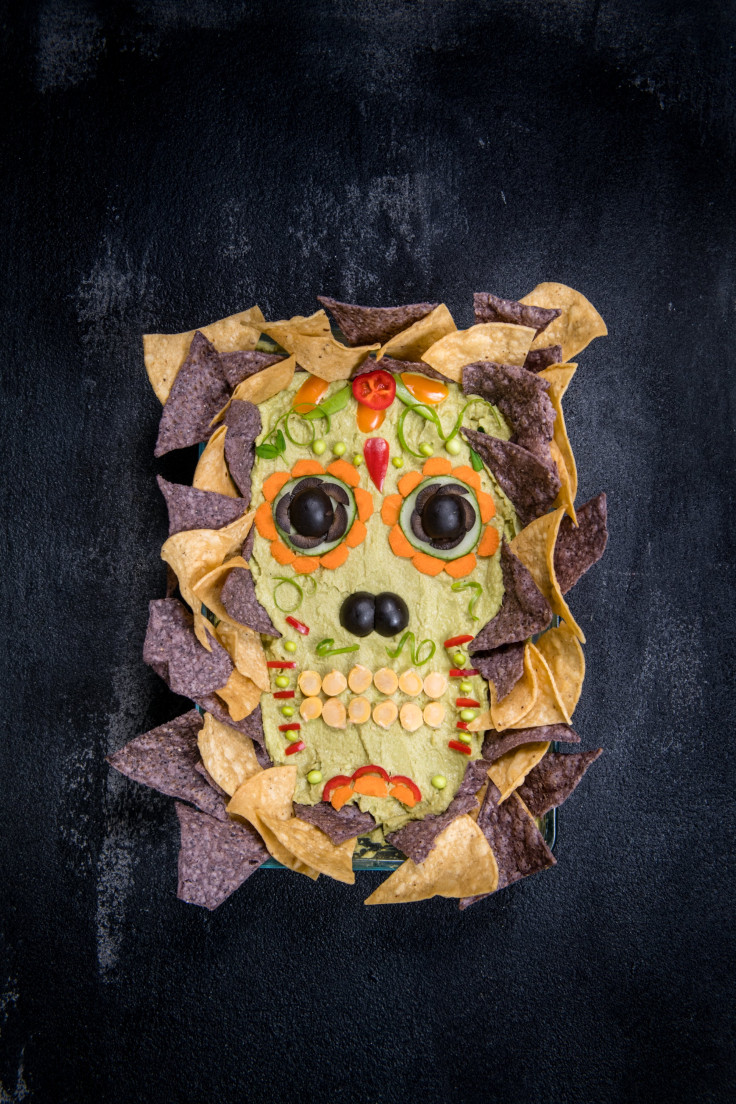 Celebrate the colors and tradition with the wickedly-fun Day of the Dead Hummus.
Ingredients:
For the Hummus:
Two ripe, fresh avocados, halved, pitted, peeled, and diced
1 (15 oz.) can chickpeas, drained
3 Tbsp. lemon juice
3 Tbsp. olive oil
2 Tbsp. tahini
One garlic clove smashed
1/2 tsp. salt
1/4 tsp. pepper
For the Presentation:
One mini red sweet pepper, bottom cut off for round shape, halved, seeded, one half cut widthwise into rounded strips, the other half cut into a teardrop shape
One mini orange sweet pepper, halved, seeded, cut into teardrop shapes
Three black olives, halved, 2 of the halves sliced widthwise into a half-moon shape
One carrot, peeled, halved cut into half-moon slices
Two cucumber slices
Six chickpeas, reserved from hummus recipe, cut in half
Five snow pea pods, remove and reserve the peas from 3 of the pea pods, keeping two whole
One green onion, white removed, halved lengthwise, thinly sliced lengthwise
1 cup of ice water
One bag blue corn tortilla chips
One bag of regular corn tortilla chips
Instructions:
For Hummus:
In a food processor, puree avocado, chickpeas, lemon juice, oil, tahini, garlic, salt, and pepper.
Transfer to a serving bowl.
For Presentation:
Fill hummus into a rectangular serving dish.
Arrange chips around the outer edge of the bowl to make a frame of a skull.
Place the two slices of cucumbers for the eyes, encircled the cucumber slices with the small carrot half-moons, to make a "flower" shape.
Place 5 of the half-mooned black olives on top of each of the cucumber slices in an overlapping circular shape, then place a half olive on each for the pupil.
Use the remaining two halves of black olives to make the nose.
Arrange the halved chickpeas in two rows of 6 for the teeth.
Alternate peas and the red sweet pepper strips along both sides of the teeth to form the mouth.
Use the round red sweet pepper shape at the top of the skull and alternate the three orange sweet pepper teardrops and the two whole pea pods around the round red sweet pepper for the forehead adornment.
Place the red sweet pepper teardrop shape just above and between the eyes and three peas just above each eye for eye adornments.
Next, place three carrot half-moons for the chin with re of the red pepper strips above them for the chin adornment.
To finish, take the thin green onion slices and place in the cup of ice-cold water until the pieces begin to curl. Use the curls as accents around the face as preferred.
© 2023 Latin Times. All rights reserved. Do not reproduce without permission.