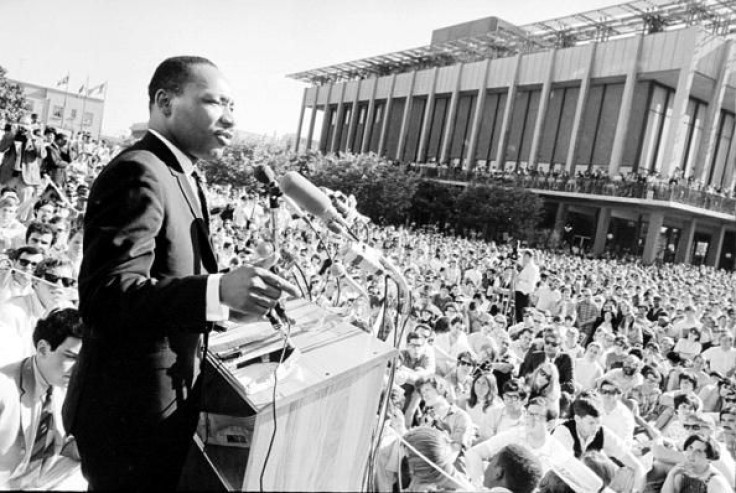 Every third Monday of January is a day to celebrate the memory of African-American civil rights leader Martin Luther King Jr. MLK Jr. is known for his non-violent approach to peace in the United States and is also known as one of the greatest orators in American history. Dr. Martin Luther King Jr. helped millions of people in the fight for racial equality and unfortunately he was assassinated before his work was complete. To honor the inspirational civil rights leader we have rounded up four ways you, your family and friends can celebrate Martin Luther King Jr. day, Monday Jan. 18.
1. Study the life and work of Dr. Martin Luther King Jr. — You can visit your public library to pick up a biography on MLK Jr. or even find a biographical video about his life. If you don't have the time for that there are thousands of websites dedicated to Dr. King and his life. You can also brush up on leadership techniques from Gandhi and check out Henry David Thoreau's essay "Civil Disobedience," both of whom inspired Dr. King in his non-violent civil rights campaigns.
2. March in peace parades or peace walk — Each year when Martin Luther King Jr. day rolls around cities from all over the world celebrate in their own way. Many take cues from Dr. King's own peaceful protest against racism and inequality and gather to march for peace. Many cities all over America are preparing for peace walks on Monday Jan. 18. To find out if your city will have a peace walk or march check your local news outlet.
3. Inauguration National Day of Service on January 18. — Join President Obama and the first family as they honor the life and legacy of Dr. King. The MLK Jr. Day of Service empowers individuals, strengthens communities, bridges barriers, creates solutions to social problems, and moves us closer to Dr. King's vision. For more information or to find a way to get involved check it out here at mlkday.gov.
4. Attend a church service or event commemorating Martin Luther King Jr. — Reverend Dr. King is best known for his role in the advancement of civil rights using non-violent civil disobedience based on his Christian beliefs. Dr. King's faith played a pivotal role in his civil rights movement and helped him preserve through tough times. Check your local community center or church to see it they will have a special service for Martin Luther King Jr. Jan. 18.
Finally, please be respectful even if you do not observe Martin Luther King Jr. Day. Observance of the holiday has increased since 1983 when President Ronald Regan made it an official federal holiday. Many businesses and schools observe by closing for the day. Employees and students mark the day with celebrations, seminars, volunteer work and religious services. If you don't like these ways to celebrate find your own special way to honor the holiday and Dr. King's vision.
© 2023 Latin Times. All rights reserved. Do not reproduce without permission.