A 62-year-old man was named as a person of interest behind the morning-rush shooting that happened at a Brooklyn subway station on Tuesday, Apr. 12, that left more than 20 people injured.
In a report from BBC, the person of interest behind the subway shooting was identified as Frank. R. James. It was added that the 62-year-old man rented a U-Haul van that may be linked to the incident. However, police clarified that James has not yet been named as a suspect in the attack.
"We are looking to determine if he has any connection to the train," NYPD Chief of Detectives James Essig said.
According to the New York Times, James posted several videos on social media in the past years and expressed his bigoted views. Also, he has recently criticized New York City Mayor Eric Adams.
According to police, a male attacker reportedly detonated two smoke grenades and also opened fire at Brooklyn's 36th Street Station. The attack unfolded shortly before 08:30 local time (12:30 GMT) with police adding that the male suspect had a Glock 9 mm semi-automatic handgun.
The Glock handgun was recovered together with three extended magazines, a hatchet and a range of potential incendiary devices at the scene.
"He then fired that weapon at least 33 times, striking 10 people," police chief Mr. Essig said. Seven men and three women were shot.
Based on images captured at the scene, some passengers were bloodied left lying on the floor. Moreover, others suffered injuries related to smoke inhalation, falling or suffering a panic attack.
The victims of the Brooklyn subway station incident are however expected to survive.
A $50,000 (£38,450) reward is being offered for information leading to the arrest of the suspect.
The male suspect police are trying to pin down was about 5-foot-5 tall and weighed about 170 lbs. He was also wearing a construction vest, gray hooded sweatshirt, and a gas mask.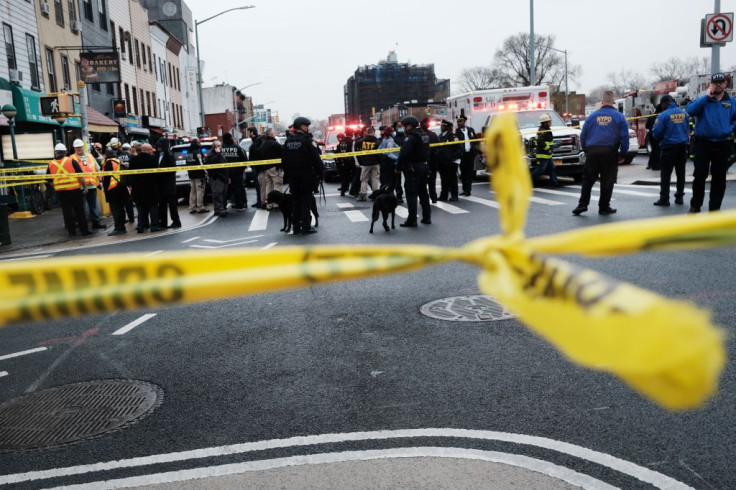 © 2023 Latin Times. All rights reserved. Do not reproduce without permission.