Planning a Super Bowl party? Even if you're not a football fan, the annual championship game of the National Football League is an opportunity for you to show off your culinary skills and step up your game in hosting the celebration. These simple and satisfying Latin inspired recipes are sure to please all the sports fans in your family and friends. Scroll down to see our mouthwatering options and the delicious bites to celebrate the 50th Super Bowl festivity.
The Federal Frita From Executive Chef Cesar Zapata
Ingredients:
For the Sliders:
1 tablespoon Olive Oil
1clove garlic, peeled and crushed
1/2 small onion, chopped
1 tablespoon hot paprika
1 tablespoon smoked paprika
2 teaspoons kosher salt
1 teaspoon ground cumin
1/4 cup ketchup
1 tablespoon Bbq sauce
1 tablespoons worcestershire sauce
12 ounces ground beef, preferably chuck
3 ounces ground pork
3 ounces Spanish chorizo (casing removed & ground)
Tabasco Chipotle
For the Potato Sticks:
4 cups shoestring potatoes
8 slider buns
Instructions:
1. To make the sliders place the olive oil and garlic in a sauté pan set over medium-high heat. When the garlic begins to sizzle (about 45 seconds), add the onion and sauté until the onion becomes translucent. Add paprikas, salt and cumin and stir to combine. Place the onion and garlic mixture, ketchup, BBQ sauce and Worcestershire sauce in a blender and puree until smooth. Place the beef, chorizo and pork in a medium bowl and pour the puree over the meat. Using your hands, work the puree into the meat until well mixed. Allow the meat mixture to rest in the refrigerator for about 1 hour.
2. Roll about 1/4 cup of the meat mixture into a ball and lightly flatten into a patty about 1/2-inch thick. Repeat with the remaining mixture.
3. At game time, heat a griddle over medium-high heat. Lightly coat the pan with canola oil. When the oil is hot, cook the patties for about 3 minutes per side. Cut buns in half and toast on griddle. Once patties are golden brown and completely cooked, remove from griddle. Take toasted bun, top with frita patties, top with shoe string potatoes and serve with ketchup or your favorite bbq sauce.
Meatballs in Tomato Sauce and Queso Añejo By Chef Eduardo Ruiz
Ingredients:
For the Meatballs:
½ pound of ground pork
½ pound of ground beef
2 tablespoons of parsley, chopped
2 tablespoons of cilantro, chopped
1 fennel bulb, small
½ onion, small dice
4 tablespoons of cooked white rice
2 eggs
2 teaspoons of fennel seeds
1 teaspoon of sea salt
1 teaspoon of ground ancho chili
Olive oil
For the Sauce:
4 Roma tomatoes
6 cloves of garlic
1 teaspoon of oregano, dried
I can of 28 ounces of Las Palmas Red Enchilada Sauce
4 ounces of vegetable stock
3 tablespoons of olive oil
For the Garnish:
Instructions:
For the Meatballs:
In a mixing bowl, combine the ground pork, ground beef and all the ingredients for the albóndigas. Mix well and shape into 1-inch size meatballs (about 2 tablespoons).
Heat about a 3 tablespoon of oil in a large skillet over medium-high heat until hot but not smoky. Add the meatballs to the pan, being careful not to overcrowd.
Brown the meatballs on all sides, turning as needed, about 4-5 minutes per side, for a total of 20 minutes. Set aside to rest for about 5 minutes.
For the Sauce:
In a medium skillet over high heat, add olive oil, tomatoes and garlic. Cool for about 10 minutes until tomatoes are soft and garlic is brown. Turning constantly so they don't burn.
Place the cooked tomatoes and garlic in a blender with remaining sauce ingredients and blend until smooth. Place sauce back in to skillet and cook for 10 minutes until sauce is hot.
Add the cooked albóndigas and reduce heat to low. Serve in a bowl with plenty of sauce. Garnish with grated queso añejo and enjoy with bread or tortillas.
Marinated Meat Sopes with Chiles Toreados By Chef Eduardo Ruiz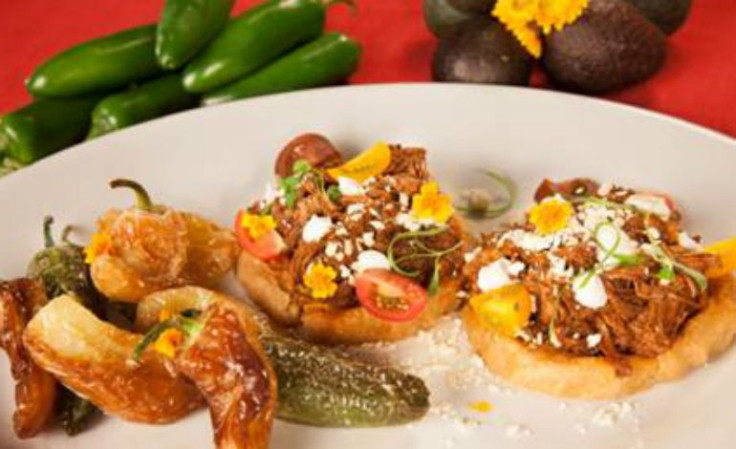 Ingredients
For the Meat:
1 teaspoon ground cumin
1 teaspoon ground coriander
2 dried chiles guajillo
16 ounces of Las Palmas Red Chile Sauce
1 medium onion, diced small
Kosher salt, to taste
5 ounces chiles in adobo
1 teaspoon fresh ground coffee
6 garlic cloves, crushed
3 pounds boneless pork shoulder
For the Chiles Toreados:
8-10 chiles gueros
4 ounces canola oil
2 teaspoons salt
1 teaspoon pepper
2 ounces lemon juice
8 sopes or tostadas
Instructions
For the Chiles Toreados:
Place the canola oil in a small sauce pot over medium heat. Add chiles gueros to the hot oil and cook for about 8 minutes turning chilies constantly making sure they cook evenly.
Place chilies in a small bowl and add lemon juice, salt and pepper. Let them sit at room temperature for 30 minutes.
For the Meat:
Rinse the meat with cold water and pat dry with paper towels. Season with a generous amount of salt and let sit for about 30 minutes. While meat is sitting, make the adobada sauce. Place all sauce ingredients into a blender and puree until smooth.
Preheat oven to 350℉.
Place the meat into a Dutch oven and cover with sauce. Place chiles torneados on top making sure to add in all the juices in the bowl. Cover Dutch oven and cook for 2 hours. Remove from oven and let cool for 20 minutes. Shred pork with two forks once cooled.
For the Sopes or Tostadas:
Cook your favorite sopes following the directions on the package or toast tostadas. Place on a plate and add a generous amount of shredded pork. Garnish with queso fresco, radish, lemon juice and cilantro.
Spicy Guacamole by Chef Santiago Gomez at Cantina La Veinte
3 Large Hass Avocados
1 Lime (For the lime Juice)
1 Medium White Onion (Diced)
¼ Cup Fresh Cilantro
1 Habanero (Finely Chopped)
1 Green Apple (Diced)
Salt
Instructions: Slice the avocados in half and scoop out of the shell. Place in a bowl, add the lime juice to prevent from browning. Smash with the help of a fork, and add the rest of the ingredients with salt.
Fried Chicken Wings By Jose Mendin, Pubbelly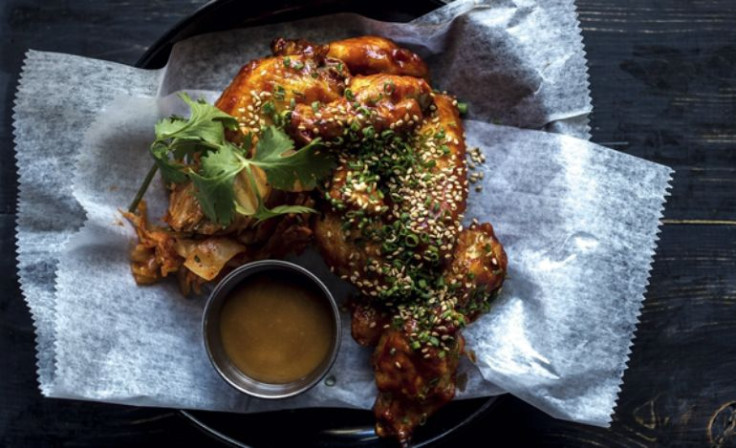 Ingredients:
1 whole chicken (cut into 8 pieces)
1ea Head Bibb Lettuce (cut into cups)
Buttermilk Marinade:
1lt buttermilk
2tbsp. kimchee base
1tbsp gochujang paste
1tsp. chili powder
Flour:
2cups All purpose flour
½ cup cornstarch
1tbps chili powder
1tsp paprika
1tsp garlic powder
1tsp schichimi (Japanese 7 spice)
Gochujang Mustard Miso:
1 Tbsp. miso paste
1 clove garlic, minced
½ tsp. light brown sugar
1 tsp. sesame oil
½ tsp. rice vinegar
1tsp gochujang
1tsp dijon mustard
Marinade the chicken in buttermilk mix for at least an hour. Take chicken out of buttermilk and drench in seasoned flour, leave out for at least 15 minutes. Then fry at 360f for 15 minutes or cooked all the way through. Serve with gochujang mustard miso and bibb lettuce cups.
For the Gochujang Mustard Miso:
Combine miso paste, garlic, brown sugar, and 1/4 cup water in small saucepan. Bring to a simmer over medium heat. Cook 1 minute, or until miso dissolves and begins to bloom. Remove from heat; stir in oil and vinegar. The fold in mustard and gochujang paste.
Easy Tex-Mex Pasta Salad By Eddie Garza, From The Humane Society (As seen on D'Latinos)
Ingredients
Cavatappi or other egg-free noodle 1 16-oz. box cooked and drained
Salsa picante 1 Cup
Just Mayo or other egg-free mayo 1 Cup
Black beans ½ Cup
Red pepper (diced) ½ Cup
Sweet corn kernals ½ Cup
Green onion (diced) ½ Cup
Sea salt to taste
Preparation
1. Whisk salsa and mayo and pour over cooked/drained noodles. Mix well.
2. Add black beans, red pepper, corn, and green onions and toss together.
3. Chill overnight. Serve cold.
For more plant-powered recipes, go to www.humanesociety.org/meatfree
Rain-or-Shine Pulled Pork And Pimento Cheese By PorkTeInspira.com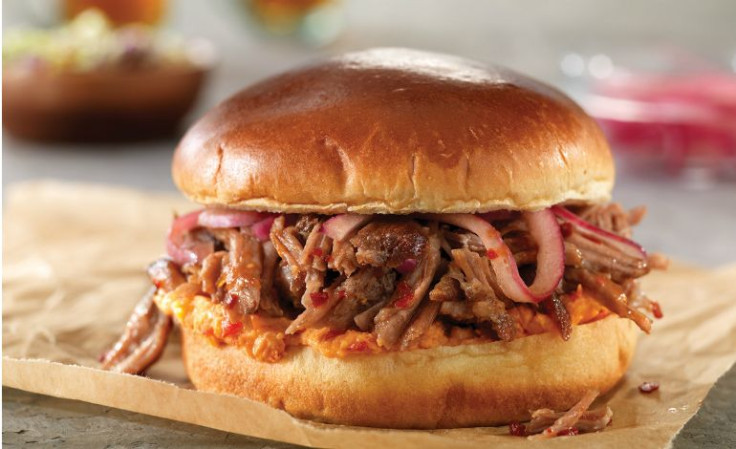 Ingredients
3 pound boneless pork shoulder
2 tablespoons ketchup
2 tablespoons brown sugar, packed
1 tablespoon red pepper flakes, or more to taste
1 1/4 cups cider vinegar, divided
1 1/2 teaspoons salt, divided, or more to taste
1 red onion, quartered and thinly sliced
8 soft buns, split horizontally
For Pimento Cheese
8 ounces Cheddar cheese, coarsely shredded (about 2 cups) 4 ounces cream cheese, at room temperature
1 4-oz jar sliced or diced pimentos, drained (about 1/2 cup) Salt and pepper
Instructions:
In a medium bowl, combine ketchup, brown sugar, red pepper flakes, 1/2 cup of the vinegar and 1/2 teaspoon salt, stirring to dissolve the sugar and salt. Pour vinegar mixture into a slow cooker and add pork. Cover and cook until pork is very tender, 6 to 8 hours on low or 4 to 5 hours on high, ideally turning the meat halfway through.
Meanwhile, in a medium nonreactive bowl, combine remaining 3/4 cup of vinegar and remaining 1 teaspoon of salt, stirring to dissolve the salt. Stir in onion and set aside at room temperature, stirring occasionally, for 2 hours. Set aside in the refrigerator until ready to serve.
For the pimiento cheese: In the bowl of a food processor, combine cheddar cheese and cream cheese, pulsing to combine. Add pimientos and pulse to coarsely chop. Add salt and pepper to taste. Set aside in the refrigerator until ready to serve.
Transfer the cooked pork to a cutting board and let rest 10 to 15 minutes. Use two forks to shred the meat into bite-sized pieces. Moisten/season with cooking juices, red pepper flakes, and salt to taste. Drain onions, setting them aside and discarding the marinade. Spread the pimiento cheese on the bottom halves of the rolls. Top with pork and onions and serve.
These sandwiches also makes a great wrap—spread large flour tortillas with the pimento cheese mixture, top with the pork and pickled onions, and roll them up like burritos. On the side, serve slaw, baked beans or potato chips
Perfect Day Pork and Black Bean Nachos By PorkTeInspira.com
Ingredients:
12 ounces ground pork
1 teaspoon chili powder
Salt, to taste
8 cups unsalted tortilla chips
8 ounces Mexican blend four cheese, shredded
1 15 oz.-can black beans, drained
4 scallions, sliced
1/2 cup sour cream
1 canned chipotle chile in adobo sauce, minced, or more to taste
1/2 cup salsa, plus more for serving
Instructions:
Preheat oven to 350 degrees F.
Meanwhile, in a medium skillet over medium heat, cook pork, stirring and breaking it up into bite-sized pieces, until no longer pink, 5 to 6 minutes. Remove from heat, add chili powder and salt to taste, then set aside.
Arrange 1/4 of chips on a large ovenproof platter or a 2- to 3-quart baking dish, then use a slotted spoon to arrange 1/4 of the pork on top. Top with 1/4 of cheese, 1/4 of beans, and 1/4 of scallions. Repeat 3 times, making 4 layers. Bake until cheese is melted and nachos are heated through, about 30 minutes (if the top gets too brown, loosely cover with foil).
While nachos are baking, in a small bowl, combine sour cream and chipotle. Add more chipotles to taste and set aside. Top nachos with the sour cream mixture and salsa. Serve hot, with additional salsa on the side.
To make these nachos your own, try using different kinds of beans, cheese and onions, or adding ingredients like diced bell peppers, sliced jalapeno, or chopped cilantro. For even more kick, substitute Mexican-style pork chorizo for some or all of the ground pork.
Caribbean Fruit Skewers By Goya Foods
Grilling for dessert? Yes! For a fun, tasty end to your grilled meal, thread pieces of fruit onto skewers, and cook on clean, greased grill grates. The direct heat from the grill concentrates the natural sweetness of the fruit and creates a sugary crust. Brush with a sweetened rum sauce, and let yourself become transported to the tropics.
Ingredients
½ cup dark rum (optional)
2 tbsp. finely grated, packed Goya Sugar Cane (Piloncillo) or dark brown sugar
1/8 tsp. cinnamon
1 can (20 oz.) Goya Pineapple Chunks, drained
12 strawberries, rinsed and hulled (about 1 ½ cups)
6 kiwis, peeled and cut into ½" rounds (about 2 cups)
1 mango, peeled and cut into ¾" squares (about 1 cup)
Instructions
In small saucepan over medium-high heat, bring rum, sugar cane and cinnamon to boil. (If not using rum, substitute with water.) Boil, stirring occasionally, until sugar dissolves and liquid reduces to ¼ cup, about 3 minutes. Remove from heat; let cool to room temperature. (Note: this sauce can be stored, covered, in the refrigerator, for up to 1 week.)
Alternately thread pineapples, strawberries, kiwis and mangos on 12 skewers.
Heat grill to medium-high heat. Brush fruit skewers all over with rum sauce. Place skewers on clean, greased grill grates. Cook, brushing with sauce and flipping occasionally, until fruit is charred and tender, about 5 minutes. Serve warm or at room temperature.
© 2023 Latin Times. All rights reserved. Do not reproduce without permission.