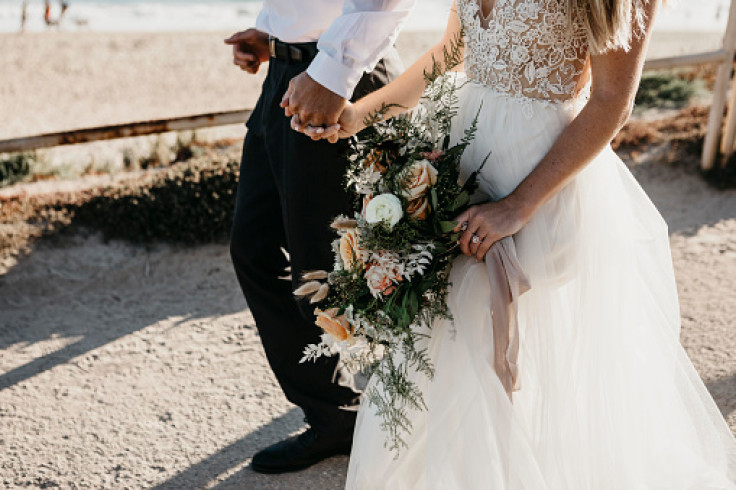 According to the affidavits, Jamie Komoroski, 25, also admitted to drinking one beer and one shot of tequila an hour before the accident that killed 34-year-old Samantha Hutchinson on Friday night.
Soon after the couple's Folly Beach wedding reception, Komoroski allegedly struck a golf cart carrying Hutchinson, her new husband Aric Hutchinson, and two relatives while operating a gray Toyota rental car.
According to investigators, she was doing 65 mph when she braked just in time to hit the cart.
After the collision, Samantha, 34, of North Carolina died. According to ABC News, Aric and a relative, both sustained critical injuries, while the other relative's condition was reported as stable.
Three counts of driving under the influence causing death and reckless vehicular homicide were brought against the alleged drunk driver.
According to police records obtained by WCBD, Komoroski estimated to officers that her level of intoxication was an 8 on a scale of one to 10 when they first arrived at the crash site and could smell alcohol on her.
According to the affidavits, she allegedly admitted to drinking one tequila drink and one beer an hour before the collision.
Documents state that the driver "strongly refused and became uncooperative" when requested to perform a field sobriety test, in addition to being wobbly on her feet, according to police.
A warrant was issued for a blood test. Results are still awaited.
According to the affidavits, officers arrived to find the golf cart on its side and multiple individuals in need of assistance. Sam died at the scene; New York Post reported.
The cart was discovered about 75 yards from the collision, according to Andrew Gilreath, the director of public safety for Folly Beach, according to ABC News.
Gilreath said the golf cart was allowed to operate and had lights.
"I was handed Aric's wedding ring in a plastic bag at the hospital, five hours after Sam placed it on his finger and they read each other their vows," Annette Hutchinson wrote on the GoFundMe. "Aric has lost the love of his life."
© 2023 Latin Times. All rights reserved. Do not reproduce without permission.