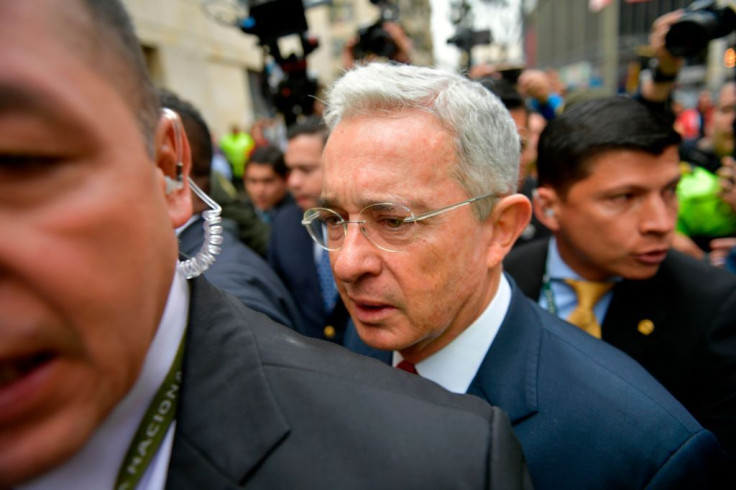 Former Colombian President Alvaro Uribe may face trial on charges of witness tampering after a court on Tuesday rejected a prosecutor's motion to shelve the probe, resurrecting a protracted and divisive case.
In March 2021, the attorney general's office requested a hearing on the possibility of halting the investigation after determining that Uribe's actions did not amount to criminal activity.
In an effort to refute claims that he was connected to right-wing paramilitaries, Uribe and a number of associates were under investigation for allegedly tampering with witnesses. He has always insisted on being innocent.
While Uribe's enemies have hailed the process as his well-deserved downfall, his allies have branded it as persecution.
"Contrary to what has been affirmed by the attorney general, there are probatory elements, physical evidence and legally obtained information that affirms, with a probability of truth, that the criminal conduct of bribery did occur, and that Uribe participated," Bogota judge Laura Barrera said.
She will not be the trial judge and attorney general's office can appeal the decision, Reuters reported.
Uribe didn't directly address the decision, but he denounced "leaks" to journalists on Twitter.
Uribe's detractors have asserted time and time again that the attorney general's office will conduct a less thorough inquiry than the Supreme Court, which was given the original investigative mandate.
The prominent former president resigned his senate position in 2020 when the Supreme Court imposed house arrest on him, even though he faced a 12-year jail sentence if found guilty.
The transfer of the matter to the attorney general's office was prompted by the resignation.
Uribe's detention lasted just over two months before a judge lifted the order.
The case is the result of allegations made by Uribe in 2012 that leftist Senator Ivan Cepeda was behind a scheme to link him to paramilitaries.
However, the Supreme Court ruled in 2018 that Cepeda had legitimately acquired data from former combatants as part of his job and had neither compensated nor coerced former paramilitaries.
Rather, the court ruled that Uribe, and his friends were responsible for pressuring witnesses.
© 2023 Latin Times. All rights reserved. Do not reproduce without permission.