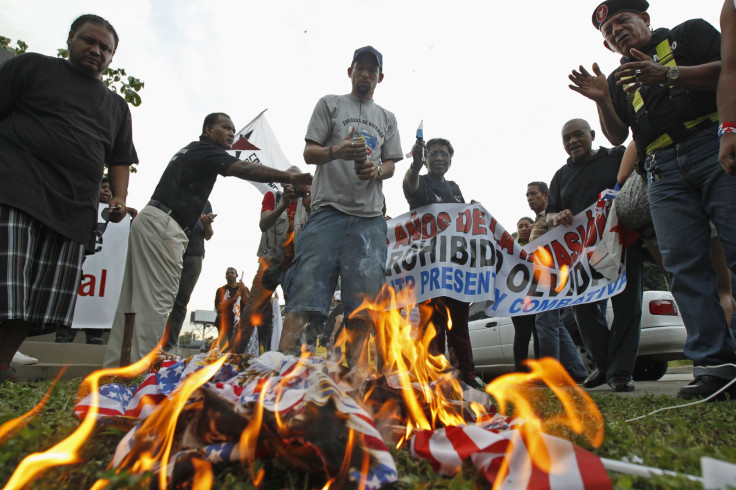 Panamanian activists gave a burning bienvenido ahead of Barack Obama's arrival to the 7th Summit of the Americas by stringing up an American flag, dousing it in kerosene, and lighting it on fire. In the background, as you can watch in the Instagram video below, a white hammer and sickle symbol can be seen hung against a fence. "The U.S. for years has abused our people, our indigenous citizens, our blacks brought here from Africa," said Pedro de Silva of Panama, who identified himself as a member of "Warriors against Social Oppression," according to Tim Rogers of Fusion.
The Warriors were part of a larger procession launching the "Summit of the People," an anti-American, pro-socialist gathering being held in Panama City. It parallels the 7th Summit of the Americas, organized by the Organization of American States (OAS). Delegations from Ecuador and Bolivia are boycotting OAS events over recent tensions between the U.S. and their closer ally, Venezuela. Their alternative summit will likely focus on two areas of U.S. diplomacy: the ongoing embargo against Cuba, and perceived aggression against Venezuela.
"And now they are threatening Venezuela; and if you threaten Venezuela you threaten all of us. And that's why we're burning this flag, damn it!" Silva told Fusion as ashes of the American flag lay on the ground.
That "threat" was an Executive Order issued by the White House "declaring a national emergency with respect to the unusual and extraordinary threat to the national security and foreign policy of the United States posed by the situation in Venezuela." Threatening as it may sound, the order has more bark than bite. It imposes limited sanctions to seven members of Maduro's leadership, who the U.S. accuses of engaging in human rights abuses. The sanctions do three things to those seven members: freeze assets they may hold in the U.S., prohibit Americans from doing business with, and bar them from traveling to the U.S. Basically, Maduro's top guys and gals are prohibited from doing a bunch of capitalist activities denounce anyway. Still, "unusual and extraordinary threat" make for a nasty headline, especially from the world's largest military power.
"I think that the issue of sanctions on seven individuals frankly has been blown way out of proportion. And infelicitous language in an executive order that is standard [....]," said Roberta Jacobson, the Asst. Sec. for Western Hemisphere Affairs at the Department of State, in remarks at the Brookings institute earlier this week. "I think folks understand that they were the result of language that is always used, they are not a prelude to invasion, we have no desire to overthrow a government."
The U.S.' history of intervention in Latin America bolsters contemporary anti-American rhetoric, and undercuts promises. The photo that the Latin Times chose for this article captures a flag-burning from Panama City last December, not in this week's Summit of the Americas. It marked the 25th anniversary of the most recent U.S. invasion, which installed a new government in 1989. At least 500 people died in that conflict. Barack Obama acknowledged America's military interventions at the 5th Summit of the Americas in 2009, and promised change.
"I know that promises of partnership have gone unfulfilled in the past, and that trust has to be earned over time. While the United States has done much to promote peace and prosperity in the hemisphere, we have at times been disengaged, and at times we sought to dictate our terms. But I pledge to you that we seek an equal partnership," Obama said.
Obama's administration moved closer to that pledge recently by entering negotiations with Cuba and promising to reverse some of it's Cold War policies. Reversing the embargo could come as early as this year, and lesser measures such as dropping Cuba from U.S. terror lists are expected soon. Lefter-leaning Venezuelan and Cuban delegations will be attending events at the OAS Summit and engaging in direct talks with the U.S.
Video of protesters in Panama burning an American flag:
© 2023 Latin Times. All rights reserved. Do not reproduce without permission.