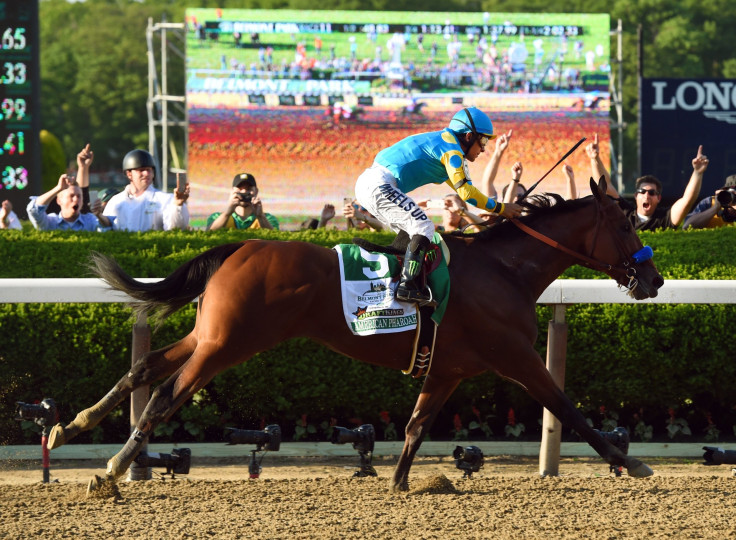 The wait is over.
The sport of horse racing has its first Triple Crown winner since 1978. American Pharoah, won the 147th running of the Belmont Stakes on Saturday in a wire-to-wire finish.
The three-year-old champion thoroughbred struggled out of the gate, but quickly sprinted to the lead. He was able to hold of all comers in the field and actually increased his lead down the stretch as the crowd roared to bring him home.
American Pharoah was ridden by Mexican-American jockey Victor Espinoza who was on board California Chrome one year ago and just missed winning the Triple Crown that year. Espinoza, who was born and raised on a goat farm outside of Mexico City, left his country at the age of 15 to become a bus driver. He is now the greatest jockey in the sport of horse racing and has the most memorable line picked up on the live feed after the finish. "Holy shit!" Espinoza said after crossing the finish line and hearing the eruption of the crowd. "I was more confident coming in to this race then I was in my last two Triple Crown attempts. I was hoping that American Pharoah felt like me. And he did."
Hall of Famer Bob Baffert, trained American Pharoah and was making his fourth appearance at the Belmont with a horse who had a chance to win the Triple Crown.
"I feel like I have a very special horse and he's the one that won, it wasn't me it was the horse," Baffert said.
© 2023 Latin Times. All rights reserved. Do not reproduce without permission.