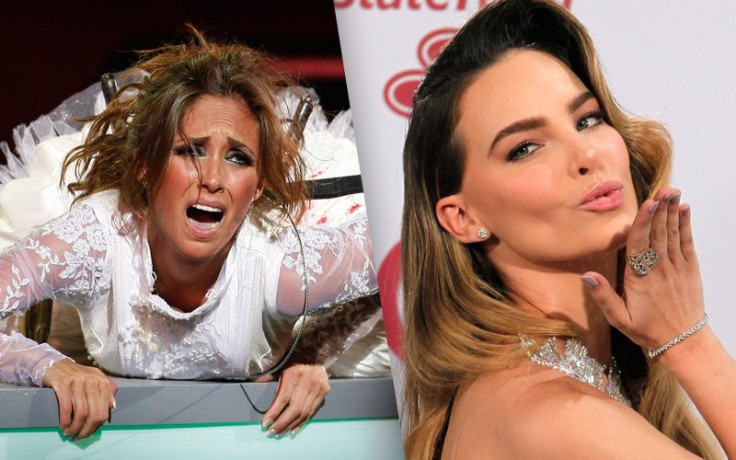 Anahí and Belinda are two Mexican pop singers that always have something to talk about. Although Anahí has been laying low in the music scene after becoming romantically involved and married to Chiapas governor Manuel Velasco, she still manages to release new music once in a while. Just last week she surprised her fans with her return to the studio with a brand new tune. It was a song dedicated to her loyal followers that have been there since she broke out as part of the pop band RBD. "Están Ahí" rose to the top of the charts soon after it was made public. Anahí's fan base, which for the most part consists of Brazilian followers made the song a hit, with her musica label having her back to promote it and assure its success.
Belinda has her share of success. Her last album, "Catarsis," was released back in 2013 and was certified double platinum in Mexico for its sales. The last single released to promote the album was "I Love You, Te Quiero" featuring Pitbull. The song did well in the music charts, but it wasn't a smash hit as it was thought it would be. However, she did find success as a featured artist in the Juan Magán single called "Si No Te Quisiera." Belinda has been working on her new album for quite some time. She even said she was working with JLo on new music, but the Bronx-diva debunked those rumors on a trip to Mexico.
Belinda has potential of becoming a music sensation, but she feels like she is not fully-supported by her music label. On radio show "Formula Espectacular," it was cited that the "Egoísta" singer was not happy with all the love Anahí gets from the label. She is allegedly jealous of her success and how much support she receives. What helps Anahí is that she has many fans thanks to RBD, which was a phenomenon, that is still carrying the little life as an artist she has left. The music label doesn't have to do much to make Anahí sell music as fans are always there supporting her. Belinda has had more hits as a solo artist and should be proud of her talent and believe she can continue being succesful. What do you think? Who is a better singer, Anahí or Belinda?
© 2023 Latin Times. All rights reserved. Do not reproduce without permission.