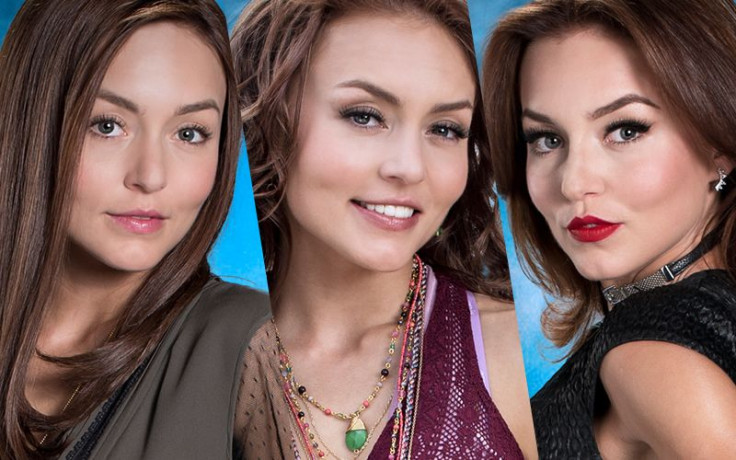 Univision viewers are in for a huge treat with the exclusive premiere of "Tres Veces Ana." The telenovela starring Angelique Boyer is an adaptation of "Lazos De Amor." In the aforementioned production, Lucero plays three different roles simultaneously. The "Lo Que La Vida Me Robó" star is taking on the task of giving life to triplets in this brand new Televisa remake. Boyer will play Ana Lucia, Ana Laura and Ana Leticia, who all look the same but have completely different personalities. Meet the girls below and tell us which one you identify with the most!
Ana Lucia is the most generous of the triplets, a joyful young girl who lost her memory after the accident she suffered next to her family. She grew up next to Soledad believing she is her mother. She has recurring dreams and nightmares, where she sees three girls and has some strange premonitions she just cannot explain. She falls in love with Santiago but she ignores him as he is her sister's husband. She will have to fight for him when she meets again with her family.
Ana Laura is the most introverted of the triplets, which became more evident after losing one leg in the accident. Even though she has the full support of her family, she is very insecure. Ramiro is in love with her, but she rejects him because she feels she does not deserve the love of a man without any physical conditions. In return, she accepts Valentín, but he is not who she thinks he is. She spends her time and money in a foundation that helps people with disabilities. She is convinced that Ana Lucía is alive and she wants to find her so they can be together again.
Ana Leticia, unlike her sisters, is capricious, envious and constantly needs to be the center of attention. She is very sensual, which she uses to obtain everything she wants. She married Marcelo, but she was never in love with him, so she didn't hesitate getting him killed when he stood on the way of her ambitious plans. She loves her uncle Mariano in a very sick way. She finds in Iñaki the perfect accomplice to achieve her goals. She also has recurring dreams marked by the guilt she feels knowing she caused the accident, which killed her parents.
"Tres Veces Ana" premieres Monday, May 23 at 10 p.m./9c on Univision!
© 2023 Latin Times. All rights reserved. Do not reproduce without permission.