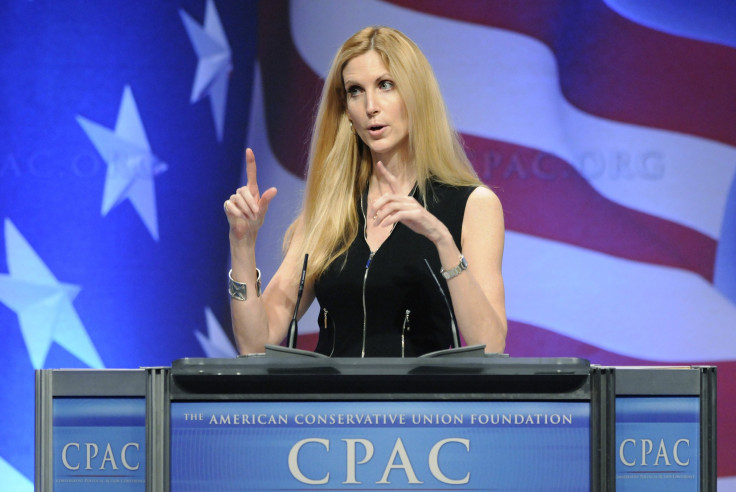 Conservative commentator Ann Coulter has found her Republican presidential candidate, and that candidate is Donald Trump. Her latest nod of approval follows Trump's policy position paper calling for drastic changes in the U.S. immigration system. Critics of the paper say that it flies in the face of financial reality, it " unworkable ," and would require changes to the U.S. constitution. Ann Coulter took to Twitter on Sunday welcoming Donald Trump's plan as "The greatest political document since the Magna Carta."
Hyperbole, perhaps, but the queen of zingers didn't stop there. Coulter tweeted that her support for Trump's immigration policy is so strong that she wouldn't mind if he "performed abortions in the White House," and insinuated that ending immigration is the only way to overturn Roe v. Wade, the Supreme Court ruling that most ensures abortion rights. Ann Coulter has called for a ten-year moratorium on immigration, saying that brown-skinned migrants from the "Third World" are admitted as part of a conspiracy by liberals to change the American electorate.
Ann Coulter wanted Mitt Romney to run for president in 2016 following a failed bid in 2012. Romney, who advocated self-deportation of all immigrants in the country illegally, lost in part because of low support among Latino voters according to a GOP-commissioned post-election autopsy.
"If Hispanic Americans perceive that a GOP nominee or candidate does not want them in the United States (i.e. self-deportation), they will not pay attention to our next sentence. It does not matter what we say about education, jobs or the economy; if Hispanics think we do not want them here, they will close their ears to our policies," the report concluded.
© 2023 Latin Times. All rights reserved. Do not reproduce without permission.