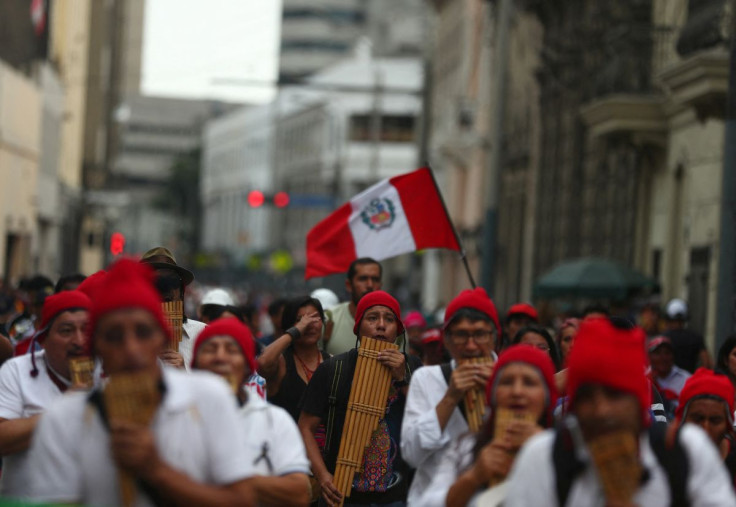 As part of a new round of marches, thousands of people against President Dina Boluarte's eight-month-old administration took to the streets in Peru on Wednesday.
As authorities braced for a "third takeover of Lima," police have been deployed to guard government offices. According to officials, around 24,000 cops were deployed throughout the country.
According to Axios, the fresh protests have come months after more than 60 people died in similar demonstrations.
Thousand protesters who are affiliated with left-wing groups and unions peacefully marched in Peru's capital Lima.
Many people of Peru have accused the President and her allies of illegitimately removing and putting her leftist predecessor Pedro Castillo behind bars. This has led to angry and sometimes violent protests in the last few months.
According to Reuters, the unrest has come during a time when there is disgust over deep inequality and rampant poverty.
By early afternoon on Wednesday, protesters had blocked six highways, mostly in southern Arequipa and Cusco regions, said ground transport officials.
Lima police chief Roger Perez said that they will respect the "right of people to protest, but if these turn violent we will make rational use of force to impose authority."
Demonstrations will be forceful and peaceful, said Jorge Pizarro, a spokesperson for one of the protest organizers. He added that they will not "seek a confrontation with the police."
However, some of the people protesting in the Andean town of Huancavelica, set the door of a government building on fire. Cops were able to quickly douse it and disperse the crowd with tear gas.
As for Boluarte, she has denounced the series of protests as a "threat to democracy," reported Al Jazeera.
In a statement issued on Tuesday, she called for a "peaceful march" without "violence, chaos or crisis."
She also slammed the protesters for being out of touch with the average Peruvian. She accused her opponents of "waving their war flags."
Protesters are not only demanding Boluarte's removal, but also the closure of the right-wing dominated Congress. Their demands list also includes early elections and having a new constitution.
Boluarte is currently under investigation for crimes of "genocide, aggravated homicide and serious injuries" in connection with the violence in previous protests.
© 2023 Latin Times. All rights reserved. Do not reproduce without permission.