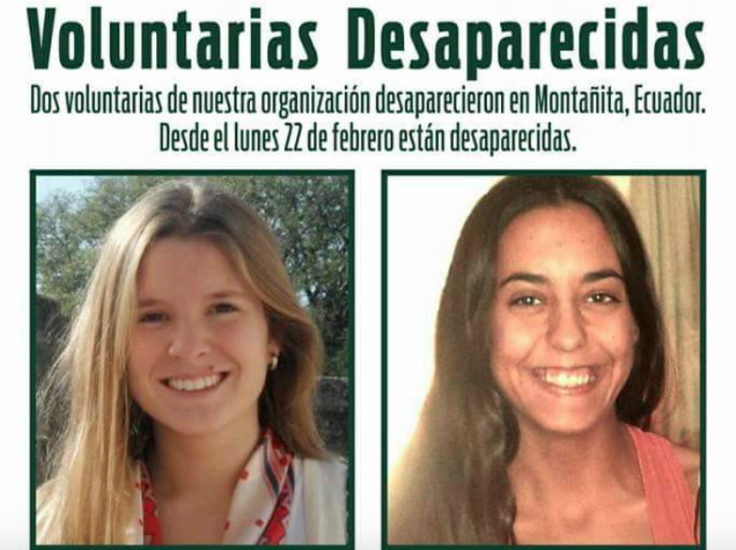 Marina Menegazzo, 21, and María José Coni, 22, left their family and friends in Mendoza, Argentina to start an adventure on their own back in January. Unfortunately, what they saw as the trip of a lifetime ended up in tragedy. On February 22, the College students went missing after visiting the beaches in Montañita, Ecuador. Their bodies were found close to the beach days after.
During the time they were missing, their family members and friends back home started an online media movement that crossed all Latin American borders. Their case gained media attention in several countries including, Argentina, Ecuador, Uruguay, Mexico and others who took to social media to ask for justice.
Ecuador's President, Rafael Correa, assured their families that he would do everything in his power to find the killers. "Our Nation is mourning. Who can do something like this? We will find whoever is responsible. Sending hugs to their families," Correa wrote on his personal Twitter account.
On February 29, local authorities released a statement announcing they had arrested two men, who admitted to be responsible for the murders. Officials reported the men met the girls at the beach and offered them a place to stay after finding out they had been robbed at the hostel they were staying. Once at their place, one of them attacked María José after she resisted to be intimate with him. The other man attested to have stabbed Marina in another room.
However, after the official confession was revealed, many believed the facts didn't seem accurate. Social media posts shared by their family members and followers suggest that there could be a human trafficking case being covered by the Ecuadorian government. No further details have been disclosed about the investigation.
Another issue being raised is the increase of femicides (sexual/gender hate crimes) in Latin America that continue to be unpunished the majority of times. Guadalupe Acosta, a student from Paraguay, penned a very honest and raw speech on Facebook, where she asks for justice, not only for María José and Marina, but also for all women whose murders have been unsolved.
© 2023 Latin Times. All rights reserved. Do not reproduce without permission.