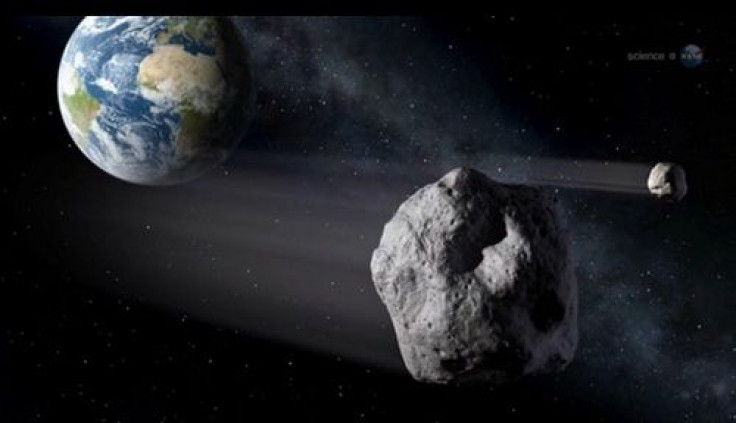 Asteroid 2012 DA14, a 130,000-ton near-Earth object (NEO) will buzz right over us Friday evening, Feb. 15, at speeds near 20,000 mph. According to scientists, the asteroid will pass just 17,000 miles from our planet, a mere tenth of a distance between Earth and the Moon. In fact, asteroid 2012 DAA14 tonight is the closest recorded flyby from a natural near-Earth object of its kind.
According to scientific calculations, asteroid 2012 DA14 possesses the impact energy of 1,000 of the atomic bombs that struck Hiroshima. In fact, the asteroid will be capable of the complete annihilation of the city of London. Thankfully, NASA scientist Donald Yeomans assures "no Earth impact is possible."
Given it's proximity, countries in Australia and much of Asia will be able to witness the flyby shortly before dawn tomorrow morning when the asteroid shines at its brightest, a magnitude of 7.2. Stargazers in Europe and Africa will also be able to see the asteroid after 9 p.m., GMT, Friday night.
However, will the Western Hemisphere be able to get a good look at it? While it isn't impossible, the peak brightness of the DA14 will occur at the same time as the middle of the day tomorrow for North and South America. Conventional telescopes may not possess the power to examine the asteroid but enthusiasts can still follow the event via the Internet.
NASA's live video stream later this afternoon will not only track asteroid 2012 DA14, but will also provide live commentary and diagrams indicating precise trajectories and locations of the object. The video will be supplied by NASA and will broadcast shots by telescopes in Australia and Europe for several hours.
Israel's Bareket Observatory will also be running images of the asteroid, which will update every 30 to 60 seconds, while the Virtual Telescope Project will stream live images and commentary from a telescope in Italy.
Be sure to see the live stream video options below.
Gianluca Masi Virtual Telescope, Italy:
NASA Jet Propulsion Laboratory:
© 2023 Latin Times. All rights reserved. Do not reproduce without permission.