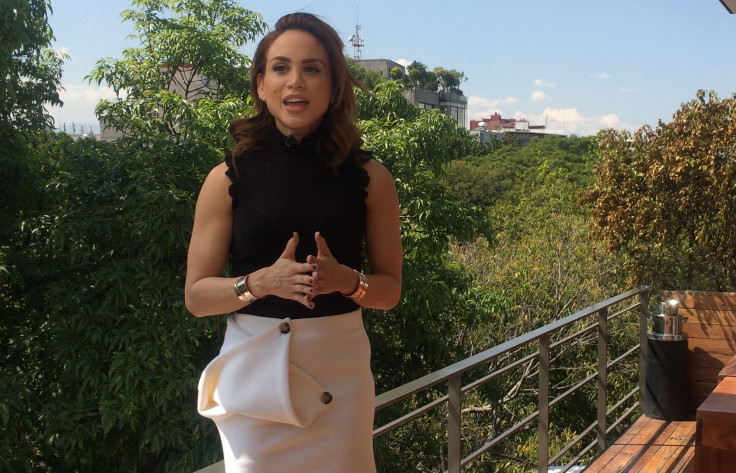 Inspired by the infinite capacity of human beings to evolve and the responsibility everyone has to be a transformational channel for others Mia Pineda has dedicated her life to share her passion: the studies of astrology and kabbalah and how to apply them in a practical way, along with ontological coaching are her personal tools for conscious development. Author, speaker, entrepreneur and the creator of the successful digital platform MIA ASTRAL, she has conquered social media with over 850 thousand followers who read her daily, standing out as one of the most influential, must read, Latin-Americans in the past six years.
We had the chance to sit down and talk to Mía during her visit to Mexico City, where she spoke about her process, how she stays sane and what to expect for next year.
Latin Times: Where you ever skeptical about astrology?
Mia Astral: Nobody's absolutely skeptical about astrology, because even if you don't believe in it, you always believe in something. I do think that I was skeptical about the way astrology was projected before. However I am skeptical about esoteric things like candles, rituals and all that stuff. Everything is about how you create a different perspective in your mind in order to project yourself in a better way. It's a mind and growth process which we're all doing any way; astrology is just one of many tools to get you through this process.
LT: What was the "aha" moment when you thought, "wow, this is real!"?
MA: I love "aha" moments. I feel like I'm the Santa Claus of aha moments. That's what moves me the most. Mine was when I got fired from a job and my boss, who's a Pisces, told me, "You're wasting your time here. Go do what you love." I was already working with people after 6pm, and my boss knew how much I loved doing that. "I'm doing you a favor," he said. I cried in bed all weekend and that Monday I decided I was going to take a deep plunge; I was going to put some structure into this and take it more seriously. While I still didn't believe in myself, I started seeing that I was making a difference in people's lives so that started changing my perspective.
LT: I'm going to go ahead and assume that the most common (and annoying) questions you get are people asking you to foresee their futures, yes?
MA: Yes! That comes a lot, but here's a really funny thing: when I started really believing in myself and what I was doing; I don't know how or why, but I stopped getting questions like that. When I used to get them I was always fighting against them like, 'I don't believe in that, or destiny' and got kind of upset; I was fighting myself internally! Now that I'm firm on my beliefs about what I do and myself, I get aligned with people who want to know how to build a better future for themselves.
LT: You work with such spiritual, energetic and vibrational materials, how do you transfer that on to social media and digital platforms while still keeping it authentic?
MA: You can get really caught up, so first of all you define what you are and what you want to transmit. Normally, after six or seven at night it's time for me to recharge and get inspired with other things; whether it's about PR, marketing, health, fitness or whatever it is that's getting women inspired. I never read other astrologers. So I feed off of things that are happening all around us so that my message stays relevant and genuine. Also, three years ago I used to get up at 4.30am to workout because I love it, but I decided that for the most part I also want to be a writer and give speeches and conferences. Now, I wake up at the same time and I write; that's the goal; that's what I most want to do, so I sit down and I write. This way the things I put out there are more real.
LT: What are another three habits that you have to have to stay centered?
MA: Training definitely. It's not the first thing on my mind now but I do need to run and workout. As I said, I disconnect at let's say 6pm because you can really get caught up in all the media and the things people say on social media, so I use that time for myself. The other one is to keep my private life really private, that way I always feel safe and protected. Some processes in life are meant to be kept private that way you can regenerate more easily when needed.
LT: What do you get asked about the most?
MA: In the beginning it was mostly about love and people also tend to ask about their zodiac signs. Sometimes they even think I've forgotten a sign, but normally I'm talking about the signs that have more going on and can take advantage of the moment. Lately I've been getting lots of questions about internal and professional growth which makes me very happy. When people ask about the future, I've seen my other followers put them in their place, and I love the feeling that we've formed a community.
LT: What would you say will be the dominant theme in 2016?
MA: Bringing dreams into reality. It's the biggest theme next year, and everybody has a vision, mission, ambition and this is the year to actually make them happen. Even if you want to continue in the excitement of planning and daydreaming, you're going to feel pressure to land it. Things are going to start happening to people which will make them see it's time to do something different; that will move them. It's going to be a very fast but busy year. It will be a very Sagittarius year with two planets retrograding into Sagittarius from March to September. Now, I want you to imagine Sagittarius energy like a horse jumping obstacles; it's a hassle but he does it anyway. There will be a huge release after September 9 where you will see how all the pieces got together.
Since Sagittarius rules everything that moves, there's going to be a lot of foreign lands involved; travelling, changes in immigration laws and a switch in the way we see nationalities. We need to start understanding that we are all citizens of the world. It is a year to make whatever is foreign yours, whether it's food, a language or anything that feels like it's outside of your comfort zone.
© 2023 Latin Times. All rights reserved. Do not reproduce without permission.