Aung San Suu Kyi, the ousted Myanmar leader, has been sentenced to four years in prison, the first in a sequence of sentences that could land her in prison for the rest of her life.
According to sources close to the trial (via CNN), Zabuthiri Court in Myanmar's capital Naypyidaw on Monday sentenced Suu Kyi. She has been guilty of charges of corruption (each carrying a possible sentence of 15 years in jail), instigation, illegally importing and possessing walkie-talkies, and breaking the colonial-era Official Secrets Act (each carrying a maximum sentence of 14 years in prison).
Suu Kyi has rejected all charges, and her supporters claim the allegations are politically motivated. The military has prevented Aung San Suu Kyi's counsel from speaking with the media or the general public during her trial in Naypyidaw, Al Jazeera said.
According to BBC, officials have detained her since a military coup overthrew her elected civilian government in February. It is unknown when or if Suu Kyi will be imprisoned. She's being held in a location that hasn't been revealed.
Co-defendant Win Myint, a former president and ally of Aung San Suu Kyi's National League for Democracy (NLD), was sentenced to four years in prison on the same accusations on Monday.
Aung San Suu Kyi, the daughter of a hero of Myanmar's freedom from British colonialism, spent years under house imprisonment under a previous military regime. She was released from prison in 2010 and went on to lead the National League for Democracy (NLD) to a landslide win in the 2015 election.
In November of last year, her party won again, but the military said the election was rigged and seized control a few weeks later. The military's charge of vote fraud was dismissed by the election commission at the time.
Since the coup, Western countries have demanded Aung San Suu Kyi's release and criticized the brutality. The ASEAN Parliamentarians for Human Rights (APHR) called the punishment a "travesty of justice" on Monday.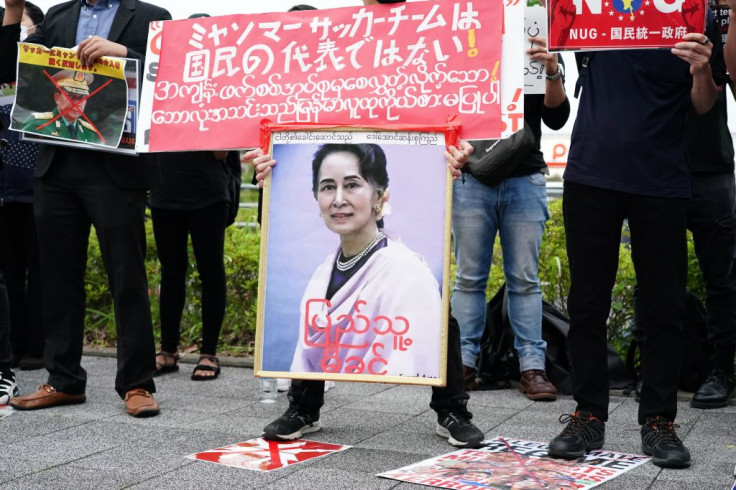 © 2023 Latin Times. All rights reserved. Do not reproduce without permission.