Myanmar's military junta has accused former civilian leader Aung San Suu Kyi of corruption on May 10, according to state media, adding to a slew of court charges against the Nobel Peace Prize recipient since the February coup.
The latest indictment stems from the Anti-Corruption Commission's probe into multiple allegations lodged against Suu Kyi. The state-run Global New Light of Myanmar said that she was found "guilty of committing corruption using her rank."
She was accused under Section 55 of the Anti-Corruption Law, and if convicted, she may face a maximum penalty of 15 years in jail.
The Anti-Corruption Commission claimed that Suu Kyi had unlawfully collected $600,000 in cash and gold from the former Yangon area chief minister.
It also accuses her of abusing her power to lease a Yangon property for the Daw Khin Kyi Foundation headquarters she formed in 2012, where they planned on opening a Horticulture Vocational School in Naypyidaw.
However, the commission stated that the project was not carried out of the procedures, but with her "power and authority." It results in the state losing 5.2 billion kyats ($3.15 million).
Khin Maung Zaw, Suu Kyi's lawyer, called the claims baseless.
"I've never met any statesman more honest and incorruptible as Daw Aung San Suu Kyi," he said. "She might have defects but personal greed and corruption is not her traits," he continued.
According to the Global New Light, three additional former officials have been accused of corruption. The criminal files to them were launched at police stations on May 9 according to the report.
According to CNN, Suu Kyi was accused of unlawful possession of intercom and breaching coronavirus regulations. According to her legal team, the trial for these allegations will begin on June 14 and end on July 26.
Furthermore, Suu Kyi is charged with breaking the Official Secrets Act and risks a prison term of 14 years in jail if proven guilty.
The junta's crackdown on broad pro-democracy rallies and "people's resistance" rebels who are taking up guns against the military has resulted in extensive carnage in four months after the coup. The coup resulted in 850 deaths and 5,941 imprisonments.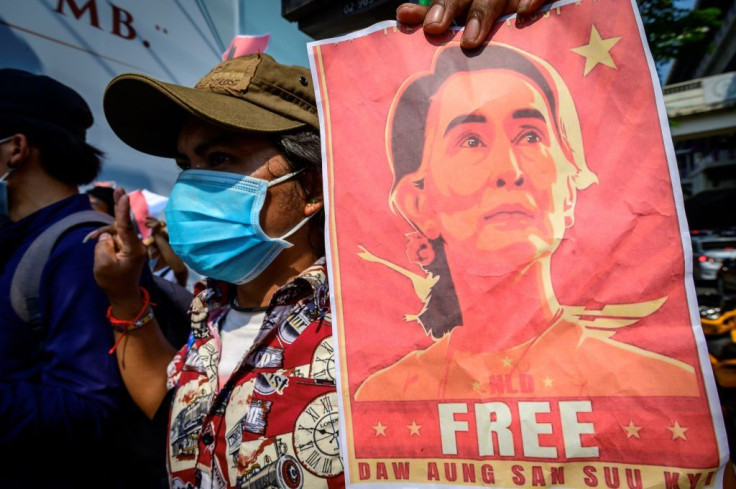 © 2023 Latin Times. All rights reserved. Do not reproduce without permission.