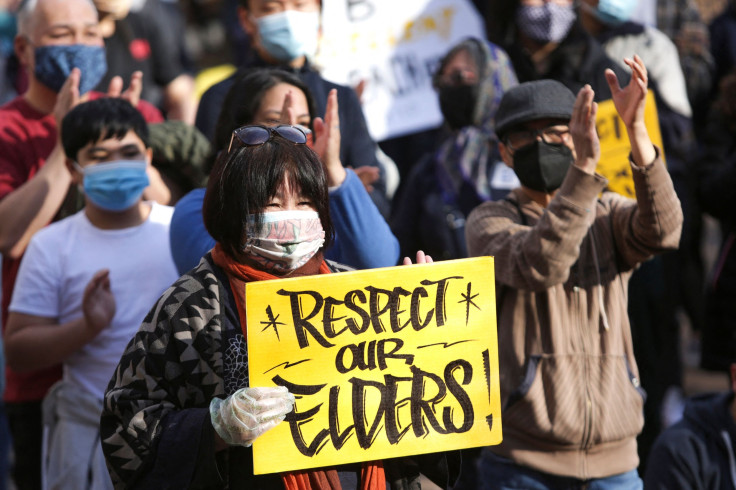 A West Baltimore, Maryland man has been apprehended by authorities after reportedly assaulting two elderly Asian women at their Pennsylvania Avenue liquor store Sunday night.
Baltimore Police identified the perpetrator as Daryl Doles, 50. He's been charged with two counts of aggravated assault. Doles reportedly forced his way into the Wonderland Liquor Store as the two Korean women were closing up the shop before 11 p.m Sunday.
CCTV footage shows the suspect, in a red shirt, wielding a cement block to overpower and hit the helpless women. One of the victims can be seen pushed to the ground as Dole mauled her repeatedly with the cinder block. As the second woman tried to disarm the suspect, Dole bashed her in the head with the brick.
The lopsided melee continued for some two minutes, according to Yahoo! News. Doles then fleed the scene of the confrontation as the two assaulted women were able to lead him out of their store.
The victims returned to their liquor store bloodied but fortunately did not sustain any life-threatening injuries. The two Asian women were immediately taken to a hospital for treatment on Sunday and are now recuperating at home.
In a statement, Maryland Governor Larry Hogan condemned the incident and labeled it as yet another example of the rise of violent outbursts and hate crimes targeting Asian-Americans happening all across America. The Maryland State Police is now working closely with the city to investigate the attack, according to Hogan.
"We're going to get to the bottom of this," the public official vowed.
Hogan, whose wife and daughters are Korean-Americans, noted that he has had a dialogue with former U.S. Attorney Rob Hur, who's putting up Maryland's Hate Crime Task Force.
In 2020, hate crimes targeting Asians spiked by nearly 150%. In Maryland, hate crimes against Asian-Americans have more than doubled since 2018, sparking the creation of the statewide workgroup to combat their prevalence.
In a WJZ interview, John Yun, son of one of the women attacked, expressed his outrage over the random brutal attack against his mother and aunt.
"It doesn't make sense why they would come here to make a living and get treated like this in a community that should embrace (them) because we've been here for over 20 something years, we are a part of this community," Yun said.
Politician Bilal Ali, a former delegate of the 44th district, also stood in solidarity with the victims and their families, noting he had had enough of the nonsense.
"It's not about Asian, white, black, or whatever, this is humanity. As a former representative of the community, I'm saying enough is enough of this nonsense," he said.
A GoFundMe page has been set up to help with the victims' medical expenses.
© 2023 Latin Times. All rights reserved. Do not reproduce without permission.