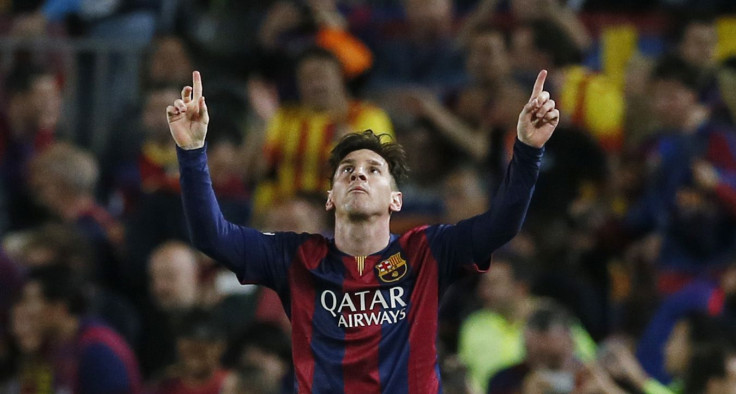 BARCELONA, Spain – Lionel Messi scored two goals in two minutes and Neymar added a third in stoppage time as FC Barcelona defeated former manager Pep Guardiola and Bayern Munich 3-0 in the first leg of the UEFA Champions League semifinals.
Barcelona finally got the monkey off their back after Bayern Munich defeated them 7-0 (on aggregate) in the semifinals in the Champions League in 2013. Barcelona dominated from start to finish, but after 76 minutes, it seemed that the two teams were headed for a draw.
Messi finally broke through in the 77th minute when the masterful Argentinian scored from outside the box. Dani Alves stole the ball from Bayern and quickly got the ball to Messi who moved at breakneck speed to his left unleashing a long shot just past Manuel Neuer inside the near post.
Shortly after, Guardiola inserted 2014 World Cup hero Mario Goetze into the game for Thomas Mueller in hopes of recreating his magic in the World Cup Final against Messi and Javier Masscherano's Argentina team.
It was Messi who had the magic however, as "La Pulga" did it again a few minutes later. Messi took a pass from Ivan Rakitic and sprinted down the right side of the box where he faked Jerome Boateng out of his jock strap. With Boateng on his backside, Messi chipped the ball over Neuer's hand who was charging on the play and the ball found the inside of the net on the far post.
Messi's double gave him 77 goals in his Champions League career. He surpassed Cristiano Ronaldo who set the all-time record just a day earlier against Juventus and now stands in second place with 76 goals.
Neymar made it 3-0 FC Barcelona when the Brazilian scored on a breakaway in stoppage time. Neymar's goal came in the 94th minute after Messi sent him a through ball that found Neymar sprinting towards the net with only Neuer to beat. The world's best keeper charged out of his goal to stop the shot but was unable to make the save as Neymar easily thread it though.
Bayern Munich had no shots on target in the match and only one real scoring opportunity that came in the first half. Mueller brought two Barca defenders his way on the right side of the box and sent a terrific pass to Robert Lewandowski who just missed hitting it into the back of the net with his left foot. It was Lewandowski's eighth missed opportunity in Champions League this season.
Bayern Munich now has the daunting task of scoring at least three goals at home in Germany next week when the two teams collide in the second leg of their semifinal matchup. If any team of the remaining four left is up to the task, it's Bayern however. Twice in this season's Champions League the German Giants have headed home for leg two down on aggregate only to rise from the ashes to annihilate their opponents in Munich.
In the round of 16, Bayern battled to a scoreless draw against Shakhtar D in the first leg. Needing to score a goal and not allow an away goal, Bayern destroyed Shakhtar 7-0 in the second leg at Allianz Arena.
A month later, after a 3-1 loss to FC Porto in the UCL quarterfinals, Bayern returned to Munich needing to beat the Portuguese club by at least two goals without surrendering an away goal. Bayern won that match 6-1 at Allianz Arena pushing them through to the semifinals.
Next Tuesday will prove to be Bayern's biggest challenge to date as they will need to defeat Barcelona by at least three goals without allowing an away goal. It sounds impossible in the sport of soccer, but if their last two games at Allianz Arena are an indication of things to come, get ready for a blow out in Munich next week.
Game Notes:
Thomas Mueller made his 300th appearance for Bayern Munich. Xavi made his 149th Champions League appearance for Barcelona tying Iker Casilla's record.
© 2023 Latin Times. All rights reserved. Do not reproduce without permission.